Orthopedic help for wounded warriors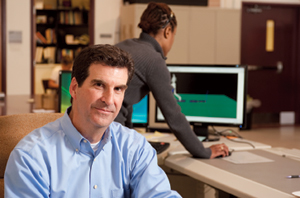 Photo by Kathy F. Atkinson
RESEARCH | A team of orthopedic researchers led by UD will use a five-year, $19.5 million grant from the Department of Defense to help injured soldiers function in everyday life.
The grant supports evidence-based orthopedic rehabilitation care for soldiers with musculoskeletal injuries. It was awarded to the BADER (Bridging Advanced Developments for Exceptional Rehabilitation) Consortium, which brings together military training facilities, academic researchers and rehabilitation institutes.
Steven Stanhope, professor in the Department of Kinesiology and Applied Physiology at the University, is principal investigator and will serve as consortium director. He says improvements in body armor and emergency care have resulted in soldiers of the Iraq and Afghanistan wars surviving injuries in much greater numbers than those in previous wars.
At the same time, the situation has led to a significant increase in severe orthopedic injuries caused by high-velocity weapons and explosive devices. Despite extensive medical services and limb salvage procedures, many of these injuries result in significantly impaired musculoskeletal structures and limb amputations, Stanhope says.
"Our goal is to see every wounded warrior living a full and engaging life without boundaries," he says. With a joint appointment in the Department of Mechanical Engineering, Stanhope's research specialty is biomechanics.
Initial clinical rehabilitation studies will focus on bone health, balance and stability, optimal walking and training to run. Work under the consortium will also include graduate training of military personnel in rehabilitation research through UD's interdisciplinary Biomechanics and Movement Science program.
"This is a tremendous grant that opens up new opportunities for collaboration with the U.S. Army at Aberdeen Proving Ground in nearby Maryland," says David Weir, director of UD's Office of Economic Innovation and Partnerships. "And it falls in what is truly a 'sweet spot' for us—the convergence of rehabilitation science, advanced materials with functional capabilities and physical therapy clinical practice."