Why are executives paid so much?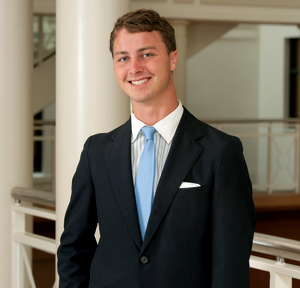 Photo by Evan Krape
RESEARCH | Research for a Federal Reserve competition, a chance meeting with one of the nation's top corporate governance professionals who calls UD home and a book by Al Dunlap led Craig Ferrere, BE '11, to the topic of corporate governance.
"I had no prior knowledge of the field or of the Weinberg Center for Corporate Governance on campus," says Ferrere, who graduated in May. "But after talking with Prof. Charles Elson and reading Dunlap's Mean Business at his suggestion, I became interested in the subject."
Specifically, Ferrere decided to investigate executive compensation models.
"Through my work at the center, I had the pleasure of meeting a number of really thoughtful board members and other governance participants," he says. "I was always struck by the profound sense of responsibility they all felt for safeguarding the shareholder capital they had been entrusted with."
Based on his interactions with such well-intentioned leaders, Ferrere says he felt that poor oversight could not be the only explanation for overcompensation of executives.
"Executive compensation has long been a lightning rod for discontent and a striking indicator of board failure for frustrated investors," he says. "In a paper for Prof. Elson's class, I explored the causes of the perceived excesses. What I concluded was that it was not, as is predominately thought, management domination of boards leading to poor pay decisions or even just a competitive market where scarce talents can demand high prices."
What Ferrere did find, he says, was that well-intentioned board decisions were distorted by the metrics they were using and that markets were distorted by those same metrics, designed to replicate their efficient function.
"Pay is set through references to a 'peer group' of companies deemed similar," he says. "Compensation levels are then set at specific percentile targets within this group—usually at either the 50th, 75th or 90th percentile of pay levels."
According to Ferrere, the flaw is that such comparisons ignore the actual talents and abilities of the individual executives in question.
"Let's say that by some strange—and personally fortunate—circumstances, I was in negotiations to head a large corporate enterprise," Ferrere says. "My pay would be set based on what 15 or 20 other executives earned. Obviously, this amount would be misplaced because as a recent college graduate I have no demonstrated leadership abilities and should not earn as much pay."
This lack of merit in pay decisions, based only on what others are paid, is "responsible for a lot of the public discomfort in regards to pay packages," he says. With that research in hand, Ferrere applied for and received a grant from the Investor Responsibility Research Center (IRRC), a nonprofit institute that funds environmental, social and corporate governance research, to explore his ideas further.
Elson, who is also Edgar S. Woolard Jr. Chair and director of the Weinberg Center, worked with the IRRC in establishing the grant and the new Edgar Woolard Fellowship program to promote research and study in the field of corporate governance.
"Edgar Woolard's name is synonymous with integrity and good governance," Elson says. "We're also thankful to IRRC Institute Executive Director Jon Lukomnik for his help in funding the program."
In the coming year, Ferrere hopes to create a measure to objectively determine a CEO's relative effectiveness and will attempt to identify certain qualities using a historic record of performance. He will also work with Elson to create a specific metric that boards can use in practice.
Kathryn Marrone Meier, AS '04, BE '06M