Putting their best foot forward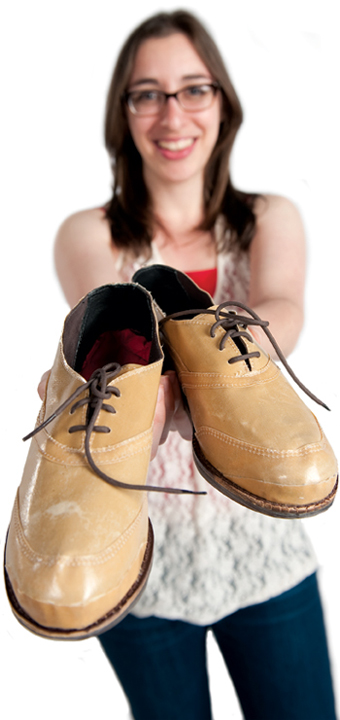 RESEARCH | In a unique partnership between the departments of Fashion and Apparel Studies and Chemical Engineering, faculty and students are designing and developing apparel and footwear using renewable sources and waste, with hopes that their end products will be fashionable, affordable and environmentally sustainable.
The undergraduate research team consists of Paula Bonanno, Jillian Kramer and Stacey Lipschitz from fashion and apparel studies and Quan Dan from chemical engineering. Chemical engineering graduate student Mingjiang Zhan helped advise the team before and after he completed his doctoral work last December.
The project aims to solve many of the environmental problems currently plaguing the fashion industry, from a growing dependence on nonrenewable petroleum-derived materials to carbon emissions associated with traditional textiles such as leather, PVC and wool.
"We're combining science and engineering with merchandising and design to bring consumers tangible, usable, wearable products that promote sustainability," says Huantian Cao, associate professor and an expert in sustainable apparel design and production, who is leading the team with his colleague, Richard Wool, professor of chemical engineering.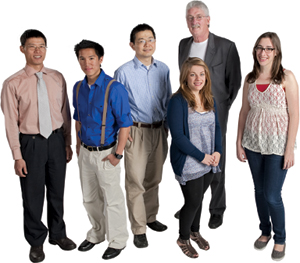 Photos by Evan Krape
Wool directs the Affordable Composites from Renewable Sources program. His research centers on the use of plant oil and chicken feathers in new composite, bio-based materials.
As co-principal investigator on the project, Wool is working with his chemical engineering students to develop thermoset resins, polyurethane foams, adhesives and nonwoven insulated materials from plant oils and chicken feathers that the fashion design and merchandising students can then use to create an environmentally sustainable coat and pair of shoes.
Their design of the coat, for instance, uses bio-based regenerated fabrics such as wool and cotton for the shell and lining, chicken feather fibers for the insulation and a chicken feather composite for buttons.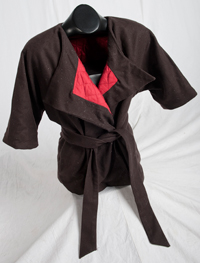 The team also has developed a prototype for a shoe with help from Reebok.
Bonanno and Lipschitz traveled to Reebok's headquarters in Canton, Mass., where they met and worked alongside pattern engineers, sample makers and sewing technicians to turn their initial sketches into an actual, trendy, "Oxford-style" shoe.
The process, which took less than a day, enabled the students to see "how the shoe comes to life and what all you have to consider when designing it, from the shape and molding of each individual piece to how to transfer the 2-D pieces into a 3-D shoe," Bonanno says.
Nearly 90 percent of the end product is composed of sustainable materials developed by the engineering team, including cotton coated with soybean-based resin that comprises the outer layer of the shoe. Another successful discovery is a combination of chicken feather fibers and soybean polymers used on the heel.
The project is funded by a $10,000 grant from the U.S. Environmental Protection Agency's P3 Program, a national student design competition for sustainability focusing on people, prosperity and the planet. It recently received a $75,000, Phase II grant from P3, which will enable students to continue developing renewable materials and using them in additional apparel designs.
The researchers displayed their eco-apparel in Washington, D.C., in April alongside 54 other teams and earned the 2011 Youth Council on Sustainable Science and Technology P3 design award, given by the American Institute of Chemical Engineers.
Article by Artika Rangan, AS '05