Sun shines on newest graduates at Spring Commencement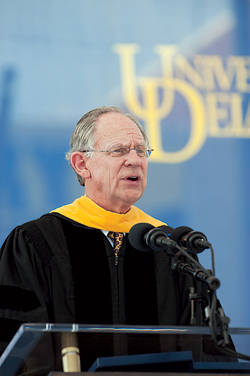 Photo by Evan Krape
ON THE GREEN | On a morning that began with dark clouds and ended with brilliant sunshine, some 23,000 families, friends and graduates filled Delaware Stadium on May 28 to celebrate the Class of 2011 during the University's 162nd Commencement.
Keynote speaker Michael N. Castle urged graduates to build on personal relationships and take a keen interest in what is going on across America and around the world. One of the most respected political leaders in the state's history, the former governor and congressman received an honorary degree earlier in the ceremony.
"As you look around you today, you are most likely surrounded by the people in your life who matter the most—your parents, grandparents, siblings, friends and teammates," Castle said. "This is what I want you to hold on to. They are the basis of friendship and love and also for success at work, in activities and in your community."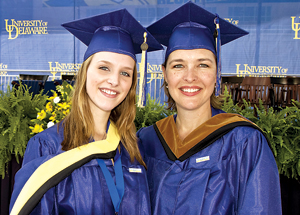 Photo by Mark Campbell
In reminding the newest Blue Hens that their hard-earned UD degree will serve them well in many ways, he also noted that life can be unpredictable and that nothing can be taken for granted.
"Life is going to throw you curveballs, like a one-point defeat in a national championship game or a loss in a U.S. Senate race," Castle said. "Even if you work hard, sweat blood and tears, go until your tank is empty, you can't always get what you want."
Despite the possibility of setbacks, Castle said that the foundation of a good education, supported by enduring personal relations, can help surmount such difficulties.
"You will not be able to predict these curveballs, and you won't expect them, but you will rebound," he said.
As Commencement began, UD President Patrick Harker welcomed the Class of 2011 and their families and friends, noting that success in a changing international marketplace of ideas and services will require the development of global citizenship.
"I'm going to ask you to do something to honor your love for this University, its mission and its ideals," he said. "I want you to become the global citizens we have prepared you to be."
Gil Sparks, chairman of the UD Board of Trustees, presented four honorary degrees at the ceremony, noting that the award is the University's highest honor. Recipients and their degrees were: Carol A. Ammon, founder and chief executive officer and chairman of Endo Pharmaceuticals, doctor of science; Castle, doctor of laws; David C. Driskell, artist, scholar and curator, doctor of fine art; and Richard F. Heck, Willis F. Harrington Professor Emeritus of Chemistry and Biochemistry at UD and 2010 Nobel laureate in chemistry, doctor of science.
A sampling of other Commencement highlights included:
Degrees were conferred on more than 4,200 new graduates, who came from 46 states, the District of Columbia and Puerto Rico and from 16 other countries.
At this year's doctoral hooding ceremony, a record 276 degrees were awarded. At Commencement, 967 master's degrees also were conferred. "Graduate education at the University of Delaware is growing and flourishing," said Charlie Riordan, vice provost for graduate and professional education.
The new graduates included 47 receiving the honors degree with distinction and 165 receiving the honors degree. Their achievements were celebrated the previous day at the annual UD Honors Program awards ceremony.
Seniors Dan Gerber and Erica Cohen announced that members of the Class of 2011 contributed more than $9,700 for the Senior Class Gift, which will be used to support 108 different areas around the campus.
Kenneth Adams, a 65-year-old self-described Baby Boomer, received a bachelor's degree in political science. Part of the elite Dean's Scholar Program, he designed his own research course of study and traveled frequently to Romania to present reports on such pressing issues as discrimination against the Roma (gypsies) and the trafficking of children. On campus he tutored fellow students with disabilities.
A mother and daughter graduated together this year, as Patty Welch received her bachelor's degree in accounting at the same time her daughter, Amanda, graduated with a degree in pre-veterinary medicine and animal bioscience.