A world premiere for UD actors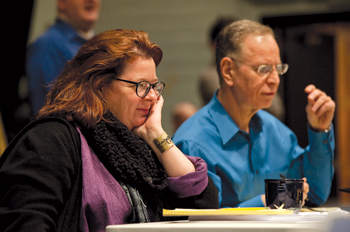 Photo by Kathy F. Atkinson
ON THE GREEN | Playwright Theresa Rebeck has worked extensively on Off Broadway productions and in television, was a finalist for the 2004 Pulitzer Prize in drama and is the creator and executive producer of the new NBC show Smash, which is based on an idea by Steven Spielberg and features a character modeled on her own life.
But, she says, when she was commissioned by UD to write a play and serve as the University's first playwright-in-residence, she faced some new challenges.
Sanford Robbins, professor and chairperson of the Department of Theatre, specified that the play was to be written with parts for the 10 members of UD's professional theatre company, the Resident Ensemble Players, as well as for the graduate Professional Theatre Training Program. In a time when playwrights are being told to write for small casts, Rebeck says she was immediately drawn to the project.
"I'd never had an opportunity like this, so I jumped at it," she told The New York Times in an article published during rehearsals in April. "Including undergraduates appearing in smaller roles, we have a cast of 40. Incredible. So I wanted to tell a sweeping story that befits the commission."
She decided on a play that presents her view of America, encompassing historical figures and contemporary, often controversial, issues from abortion and politics to school bullying and teen suicide. Performed on campus in April and May, O Beautiful takes place in a fictionalized Delaware, where Jesus and the country's founding fathers share the stage with contemporary political pundits and residents of a small, rural town.
The University's ability to commission a work by a nationally acclaimed playwright and then premiere the result on campus, with a UD cast, came about through the College of Arts and Sciences' Interdisciplinary Humanities Research Center (IHRC). The center was established in fall 2009 with a goal of enhancing collaborative research and engaging students, faculty and the public in the humanities. It was created with support from the private Unidel Foundation, which also funded the grant for Rebeck's commission.
The project that resulted in O Beautiful came under the IHRC's "visiting artist" category, with the departments of Theatre and English collaborating on the initiative. In addition to writing the play, Rebeck spent time on campus last school year engaging in such activities as guest teaching in a variety of English department courses, participating in public readings of the new play and delivering a lecture to students in the First Year Experience program.
"Those who came before us—their greatness and tragedy—they walk amongst us and live with us in a very potent and visceral way," says Rebeck of O Beautiful and its use of historical figures. The play attracted notice for its scope and its controversial subject matter, and it drew numerous positive reviews.
"As a great university, we embrace the arts. We embrace free thought and a free stage of ideas," says Ann Ardis, deputy dean of the College of Arts and Sciences and director of the IHRC. "People will love this play and hate it, too, but that is the purpose of art—to spark dialogue and make you think."
And that, in essence, is Rebeck's goal.
"Who are we becoming? Who are we allowing ourselves to become? Where is our compassion?" Rebeck says of the questions she hopes the play raises. "These are not political questions. These are larger philosophical issues."
Article by Artika Rangan, AS '05