First K-9 teams join police department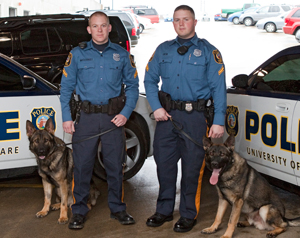 Photo by Ambre Alexander
ON THE GREEN | Scout and Panzer stand out in a crowd. They also command attention and generate instant respect wherever they happen to be working at the University.
Under the command, respectively, of Patrick McCloskey, AS '08, and Michael Crew, master police officers in the UD Police Department, the black and brown, 2-year-old German shepherds make up the first canine patrol unit on campus.
"We completed the 26-week canine training course given by the New Castle County Police Department," Crew said when the dogs were introduced on campus last spring. "We also received national certification from the National Police Canine Association."
Patrick Ogden, director of public safety, says the new K-9 unit reflects the UD Police Department's commitment to pursue innovative crime reduction strategies and community policing. The dogs "serve a dual purpose of explosive detection and patrol duty," he says.
The dogs, born and raised in Holland, were recommended for duty by trainers from the New Castle County Police Department. With their ears raised and eyes taking in all the details of their environment, Scout and Panzer listen dutifully for commands from their police officer partners and handlers.
"You need to let the dogs know that you are the boss," Crew says. "They have to know that they are not in charge."
The dogs are trained to detect a variety of explosives, search buildings, track a missing person or apprehend a suspect fleeing a crime scene.