Campus construction work goes green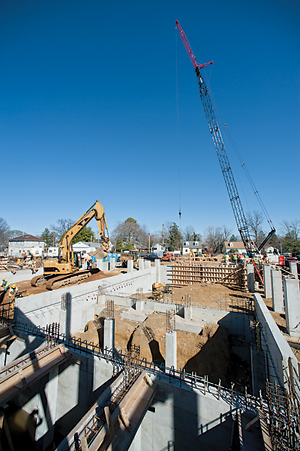 ON THE GREEN | The University, recently named one of the most environmentally responsible colleges in the U.S. and Canada, is living up to its green reputation even in campus projects that are in their early stages.
An example is the construction site at Academy Street and Lovett Avenue, where the East Campus Utility Plant is taking shape, part of a larger complex that also includes the Interdisciplinary Science and Engineering Laboratory (ISE-Lab), slated to open in 2013.
By early spring, green building practices at the site already had diverted 82 percent, or 75 tons, of waste from landfills, according to Whiting Turner, the company leading the construction.
"That's 150,000 pounds of bricks and mortar," says Larry McGuire, senior project manager for UD's Facilities Planning and Construction. Recycled materials include blacktop, soil, wood, steel, drywall and other construction byproducts.
In conjunction with the University's Path to Prominence™ and its climate action plan, UD also is using Leadership in Energy and Environmental Design (LEED) practices in all its projects, says Kathy Comisiak, Facilities Planning and Construction associate director.
Energy conservation initiatives in the ISE-Lab project include reducing water usage, capitalizing on natural lighting and using recycled materials. The building also will feature three "green roofs," where indigenous plants and succulents are used to reduce the amount of heat absorbed by a traditional roof, in turn reducing the building's energy consumption. Thin film solar panels on the clerestory roof in the east wing are an educational addition that also will demonstrate the future of photovoltaics to students.
UD was included in The Princeton Review's Guide to 311 Green Colleges, a recent guidebook created by the Princeton Review in partnership with the U.S. Green Building Council. The guide cites UD's environmental and energy research as well as campus initiatives such as trayless dining, green purchasing guidelines and single stream recycling, along with the wind turbine constructed on the campus in Lewes and the solar panels on three Newark campus buildings.