Infant language researcher earns top faculty award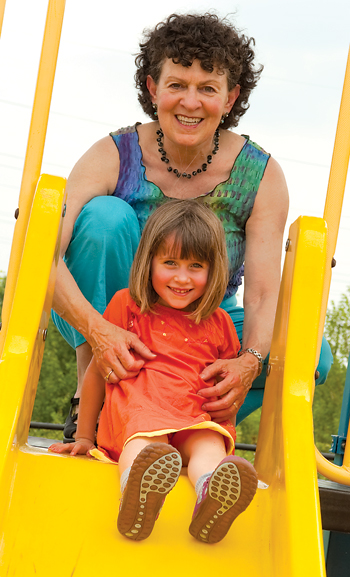 Photo by Kathy F. Atkinson
ON THE GREEN | Roberta Golinkoff, H. Rodney Sharp Chair in the School of Education, is not only an educator in the traditional sense of the word, teaching students in University classrooms, she is also an educator of the public. She writes and speaks to diverse audiences of researchers, parents, teachers and healthcare professionals about how children learn.
In recognition of her work, Golinkoff was selected as the 2011 recipient of the Francis Alison Award, the University's highest faculty honor, which was established in 1978 to recognize scholarship, professional achievements and dedication. She also is a faculty member in the departments of Psychology and of Linguistics and Cognitive Science.
Early in her 36-year career at UD, Golinkoff developed a method to assess language comprehension in babies who do not yet speak. Because of her research, it is now known that infants do not sit passively while words wash over them, but instead they are actively analyzing what they hear and extracting language's rules and regularities.
Letters from Golinkoff's scholarly peers underscore the importance of her work, noting that she has "altered our understanding of how children learn language and develop thought." Yale University's Edward Zigler, the driving force behind Head Start in the 1960s, says that he "would be hard pressed to name a scholar that I admire more than Roberta."
To support her work, Golinkoff has received sizable grants from the National Science Foundation, the National Institutes of Health and the National Institute of Children's Health and Human Development. She has also won a prestigious John Simon Guggenheim fellowship and a James McKeen Cattell sabbatical award.
In 2009, the American Psychological Association awarded her the Distinguished Service to Psychological Science Award, and this spring she received the Urie Bronfenbrenner Award for Lifetime Contribution to Developmental Psychology in the Service of Science and Society.
Golinkoff's books include Einstein Never Used Flash Cards: How Our Children Really Learn and Why They Need to Play More and Memorize Less, which explores the importance of play in children's lives.
She has given a congressional briefing and continues to present at the U.S. Department of Education on early childhood education.