Students selected as Goldwater Scholars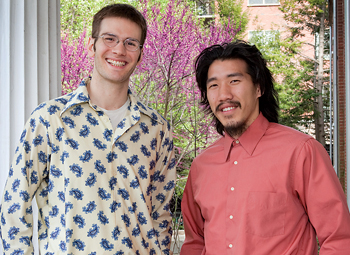 Photo by Ambre Alexander
ON THE GREEN | Timothy Edward Gilpatrick, a biochemistry major, and Joey D. Kim, a chemical engineering major, have been awarded Goldwater Scholarships, considered the premier undergraduate award of its type nationwide.
The Barry M. Goldwater Scholarship and Excellence in Education Foundation awards the scholarships in honor of the late U.S. senator with a goal of providing a continuing source of highly qualified scientists, mathematicians and engineers. This year, 275 Goldwater Scholars were selected on the basis of academic merit from a field of 1,095 mathematics, science and engineering students who were nominated by the faculties of colleges and universities nationwide.
The scholarship covers the cost of tuition, fees, books and room and board up to $7,500 per year.
Kim, who plans to earn a doctorate in renewable energy and become a research professor at a university, says he hopes "to have direct impact on both the future generation of engineers and the world of science."
He has conducted research while an undergraduate in the lab of Thomas H. Epps, III, assistant professor of chemical engineering.
Gilpatrick's professional goal is to conduct research and teach at an academic medical center. His research interest is in analyzing signaling pathways of the immune system, which he says "has many applications, including vaccine development and the treatment of autoimmune diseases."
A student in the University's Honors Program, Gilpatrick has worked in the research lab of Brian Bahnson, associate professor of chemistry and biochemistry.