New program brings study-abroad experience home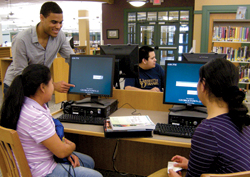 Photo by April Veness
ON THE GREEN | In a unique new program that builds on UD's tradition of study abroad and its growing presence as a Citizen University, a group of students has become immersed in Latin American culture without ever leaving the state.
Through "Global at Home: An Alternative Semester Abroad," 10 students from across the University enrolled last semester in anthropology, political science and Latin American Studies courses taught entirely in Spanish by bilingual professors. The students also took a geography course, taught in English, that took them to southern Delaware six times over the course of the semester to get a firsthand account of the social, economic and political issues faced by Latino residents of Georgetown.
"A lot of schools have service learning, and almost every school has study abroad, but 'Global at Home' is about showing the true international character of Delaware," says Latin American Studies program director Persephone Braham, who helped establish the inaugural program.
The Latino population of Sussex County, Del., has grown rapidly over the past 20 years, from a few thousand to tens of thousands, with the largest percentage from Guatemala.
The Global at Home students worked alongside April Veness, an associate professor of geography whose ethnographic research centers on how the Guatemalan immigrant community of southern Delaware is defining and creating home. The students participated in service-learning projects and home-stay weekends to learn about the concerns and experiences of Latino residents and the impact of "Latinization" on the small towns where they now live.
Katie LaFleur, an international relations major who was enrolled in the program, says she previously studied abroad in Spain. But she views the Delaware experience as "more personal because I'm building a relationship with the family" who hosted her on weekend visits.
And that, says Veness, is the hope for all the students—that they will "actively contribute to these households through friendship."
In the classroom components of the program, the courses, open to the larger University community, were filled to capacity with students on the wait list before the semester even began.
"Our goal was to produce a cultural and linguistic immersion experience without taking students abroad, and the student demand has been terrific," Braham says.
In addition to their coursework, the "Global at Home" students visited New York City, where they toured a Latino museum and saw a Spanish play. The group also attended a conference on Latino issues in March.
Marion Bernard-Amos, former assistant director of the Department of Foreign Languages and Literatures' study abroad program and current program coordinator for the Confucius Institute at UD, developed the idea for "Global at Home" as a way to build a learning community in the state. She says she hopes to expand the concept of an alternative study abroad program to other populations in Delaware.
"A partnership built around mentorship, friendship, interpretation of foreign languages, socio-cultural norms and advocacy can lead to positive outcomes for all," she says.
"The state of Delaware is an eclectic mix of people, and we want to find a way of contributing to this diversity. We see this as an opportunity to add value to the programs at UD while building on our efforts to engage locally and globally."
Article by Artika Rangan, AS '05