Honors for outstanding teachers, advisers, mentors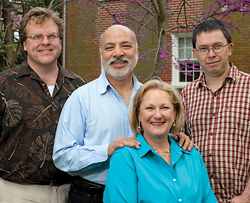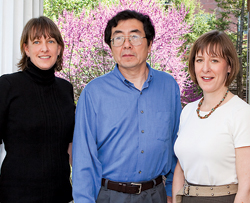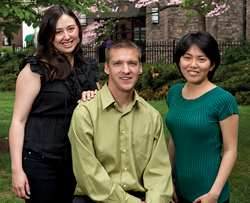 ON THE GREEN | Seven faculty members have been recognized for their outstanding work in teaching and advising, and three graduate teaching assistants have received awards for excellence in teaching.
This year's Excellence in Teaching Awards were presented to Robert Scott Coulter, associate professor of mathematical sciences; Bernard McKenna, assistant professor of English; Michelle Provost-Craig, associate professor of kinesiology and applied physiology; and Ismat Shah, professor of materials science and engineering and of physics and astronomy. The awards are based primarily on nominations from current and past students.
Coulter, who teaches discrete mathematics, abstract algebra and cryptography, says his goal for his students always centers on their reasoning abilities. "All of these courses attempt to develop problem-solving skills but with emphasis on exact reasoning involving abstract concepts," he says.
McKenna teaches a range of classes, from survey courses to advanced undergraduate to graduate courses, and says he learned to value teaching as a child by observing his aunt, a Baltimore City Public Schools teacher. "We would be together in a store or at a mall, and former students would come up to her and hug her and tell her she changed their lives," he recalls.
Provost-Craig, whose courses include exercise physiology and a pre-professional seminar that prepares students to apply to graduate school, describes her teaching philosophy as a simple one: "Make learning interesting, individualized and rigorous." She says she gets to know each student by name, even in a large class, and uses real-life examples in her teaching.
Shah says his mother, a schoolteacher in Pakistan, was his role model for good teaching. Despite class sizes of 100-200 students, he says, she knew her students and their individual backgrounds. "Good knowledge of the subject is essential but being a good communicator is just as important," Shah says, "and communication requires knowing your audience and listening to their needs."
The Excellence in Advising and Mentoring Awards, also based on student nominations, went to Jingguang Chen, who is Claire D. LeClaire Professor of Chemical Engineering; Stephanie Kotch, instructor in the School of Education; and Lynn Worden, assistant professor of human development and family studies.
Chen, who says his role with undergraduates is primarily as a research adviser, works to identify each student's educational background and interests and to match them with an appropriate research topic. "During the course of research, I provide guidance but strongly encourage the student to work independently," he says.
Kotch, an elementary teacher education instructor and field experience coordinator, says her goal "is to nurture and support undergraduate teacher candidates striving to discover themselves as professional teachers." She tries to answer all their questions and concerns, visits their classrooms to offer consistent supervision and constructive feedback and guides them in their career choices.
"When I meet with students, I try to give them the guidance that I would want my own children to receive," Worden says. "I make sure that they understand their options and the policies they must follow so they can graduate in a timely manner. However, I also want them to be in control of their academic and future careers."
This year's recipients of the graduate student Excellence in Teaching Awards were Lauren Marie Balasco, who is pursuing a doctorate in the political science and international relations; Paul Robert Larson, who is completing his doctorate in economics; and Miho Maeda, who is a master's degree student in the biological sciences.