Future entrepreneurs plan for success in business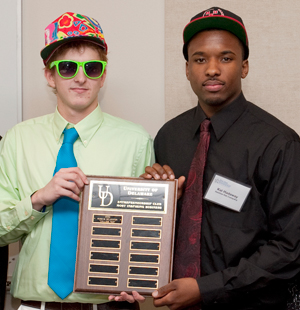 Photo by Kathy F. Atkinson
ON THE GREEN | A shop where college women can swap their gently used clothing with one another was an innovative approach to retail that won high marks at this year's Business Plan Competition on campus.
The competition was held as part of the E-Forum on Entrepreneurship, sponsored by the Entrepreneurial Studies (E-Studies) Program in the Alfred Lerner College of Business and Economics, which aims to strengthen connections between campus-based stakeholders and the broader entrepreneurial community.
Mary Claire Whisler, a fashion merchandising major with minors in entrepreneurial studies and fashion history and culture, was named a finalist for her Swap Shop venture, which she calls a "cooperative closet." The business, she says, will offer access to a shared wardrobe where women will be able to indulge their clothing passions at a much lower cost than in traditional apparel stores.
Whisler says the competition helped her to hone her creative problem solving skills, and she spoke highly of the support and motivation she received from her mentors.
"It was encouraging to have others validate my idea and provide feedback to make the business plan better," she says. "Whether I end up working for someone else or being my own boss, the competition taught me to take ownership of my ideas, be confident and vocal with my contributions and remain open to the advice of others."
Hairline Hat Company also was a finalist, with its fashionable headwear brand that "pushes to design hats that fuse expert fashion research, fine artistry and catch metaphors," say creators Mark Bailey and Kai Hadaway. Rather than focus on mainstream headwear, they say, they hope to revolutionize the hat industry by creating fun, unusual designs.
"Our strategy is identifying our brand with the lifestyle of our target market," says Bailey, a sport management major. "We don't want our brand to be a certain group of people; we want people to be a part of our brand."
Other successful competitors relied more heavily on science and technology as the basis for their business plans. Voltaic Coatings, created as a specialty conductive polymer distributor, aims for the production of flexible or bendable computer displays and TVs, as well as thinner touch screens at a fraction of the cost of current materials. And 12 Mile Radius, a mobile game and applications development company, is designed to legitimize mobile devices as gaming platforms with the kinds of complex, involved game experiences that today's users have come to expect from their PCs and consoles.
Dan Freeman, director of the E-Studies Program and professor of business administration, commends all the students for their participation in the competition.
"Our students did a great job of pitching their business plans, and I received great feedback from the competition judges and attendees, who made many positive comments about the students and their ideas," he says.
Prior to the competition, the program partnered with First State Innovation (FSI) for the presentation of its Spring Entrepreneur Showcase, which featured a keynote address by U.S. Sen. Chris Coons of Delaware, who has emphasized assistance for the growth of small businesses, particularly those in the manufacturing sector. Heads of companies were also on hand to share with students their stories and processes for seeking venture funding.
"The FSI showcase provided our students with the opportunity to learn from companies that are actively seeking early-stage investment," Freeman says. "The partnership also provided the competition finalists with an opportunity to present their ideas to seasoned investors who provided useful feedback about startup funding options and strategies."
Article by Kathryn Marrone Meier, AS '04, BE '06M