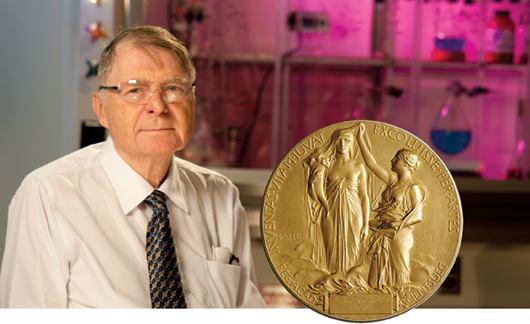 Photo by Kathy F. Atkinson
Richard F. Heck recalls that when he was in graduate school, students would jokingly ask one another, "Did you get your Nobel Prize yet?"
"I didn't try for it, but it just happened. I don't think you work for a Nobel Prize," Heck said at "Frontiers in Catalysis," the scholarly symposium held at UD on May 26 to honor the 2010 Nobel laureate in chemistry. Heck was a member of the University faculty from 1971 until his retirement in 1989.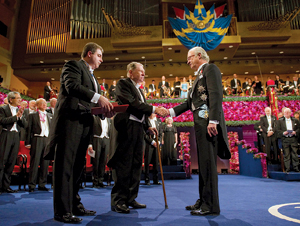 Photo by Erik Huss © 2010 Royal Swedish Academy of Sciences.
More than 500 scholars from 20 states and four countries registered for the symposium, which featured presentations by chemistry luminaries from across the United States and Canada, among them Heck's co-laureate Ei-ichi Negishi from Purdue University, who delivered the keynote address.
Heck, Negishi and Akira Suzuki from Japan's Hokkaido University received the 2010 Nobel Prize in Chemistry in December for "palladium cross couplings in organic synthesis."
In his welcoming remarks, UD President Patrick Harker noted that the University had officially declared May 26 "Richard F. Heck Day" and thanked Heck and his wife, Socorro, for traveling to campus all the way from their home in the Philippines.
"I know all those here who have relied on your work to advance their own—all those whose research exists only because of yours—are thrilled for this chance to thank you in person. I add my voice to theirs," Harker said.
"Your transformational influence on pharmaceutical development, electronics manufacture, innovative energy technologies, DNA sequencing, disease research and more has sealed your place among history's most important chemists. We're humbled that much of this work took place at the University of Delaware, and so proud that our name can be associated with yours."
Two days after the symposium, Heck was among those on stage at UD's 2011 Commencement, where he received an honorary doctor of science degree.
Heck got interested in chemistry as a teenager when the family moved from Springfield, Mass., to the Los Angeles area. Their new home was on a barren lot that Heck describes as a "desert." He started working with his dad to landscape the property and got hooked on chemistry as he began learning about different plants, fertilizers and sprays.
An only child, Heck even set up a chemistry lab in the garage. Chemistry was exciting to him, and he says he "got carried away" making compounds and by the potential to "make something new."
After earning his doctorate, he had the chance to do postdoctoral research at the Swiss Federal Institute of Technology in Zurich to work with noted chemist Vladimir Prelog (who would later win the 1975 Nobel Prize in Chemistry), partly because Heck wanted to do some traveling and had never been outside the United States. But when asked if he went skiing while he was in Switzerland, Heck said, "No, I did chemistry mostly."
Because of his shyness, Heck says, he initially steered away from a career in academia because he didn't want to face a classroom of students. He worked for Hercules in Wilmington, Del., where he was given the assignment to "do something with transition metals." Heck was successful, but his position was eventually terminated when the company reorganized because the work was outside the company's focus.
He was offered a position on the UD faculty and adapted to academic life, doing research and teaching students. Several of those former students and postdocs attended the symposium, including Take-aki Mitsudo, who traveled from Japan.
Mitsudo, who recently retired from Kyoto University and is now an industry consultant, says he was grateful for the opportunity to come to the United States to work as a postdoctoral fellow with Heck and learned a great deal from him. They would often work in the lab seven days a week, he recalls.
Although the modest Heck would never place himself on a pedestal, it is clear that legions of chemists view him as a hero.
"I deliver my sincerest congratulations to one of my heroes, Prof. Heck," said Negishi, Heck's co-laureate, as he began his address at the symposium. "It is a fantastic symposium, and I have learned a lot today."
Dean Toste, from the University of California Berkeley, noted that before Heck, there were organic chemists and there were metal chemists, but the Heck Reaction, which uses the metal palladium as a catalyst to get carbon atoms to link up, also brought these chemists together, spurring the new field of organo-metallic chemistry.
Today, the Heck Reaction is one of the most important, fundamental chemical reactions taught by professors and used by industry.
And, more than a third of the chemical reactions used in pharmaceuticals development today are based on palladium, said Todd Nelson from Merck.
For the UD family and admirers around the world, Heck's recognition with the Nobel Prize was a great victory that will continue to be celebrated.
"It's the best kind of research," says Cecil Dybowski, UD professor of chemistry and biochemistry. "Heck was driven to do it because he was interested in doing it, and he was going to pursue it no matter what. Many Nobel laureates at universities actually did the work somewhere else, but not Heck. He did much of his work right here at the University of Delaware."
The UD Department of Chemistry and Biochemistry also played an important role in the education of the late Nobel laureate Daniel Nathans, who graduated from UD in 1950, summa cum laude with distinction in chemistry. He won the Nobel Prize in Physiology or Medicine in 1978 and is known as "the father of modern biotechnology."
Also, research by Burnaby Munson, C. Eugene Bennett Chair of Chemistry, was the first cited by the Nobel committee in the award of the 2002 Nobel Prize to John Fenn and Koichi Tanaka.
Tian Qin was one of many students who sat at rapt attention during the symposium talks. The UD first-year doctoral student in chemistry said she was so inspired by Heck's example that she is not predicting her own career path.
"I'd like my future to be open, according to the experience of Prof. Heck," she said.
Primary sponsors of the symposium were the University through the Provost's Office, the College of Arts and Sciences and the Department of Chemistry and Biochemistry; Dow Chemical Co.; and Ashland Inc. Additional support was provided by DuPont and by UD's Center for Catalytic Science and Technology and the Delaware Biotechnology Institute.
Article by Tracey Bryant