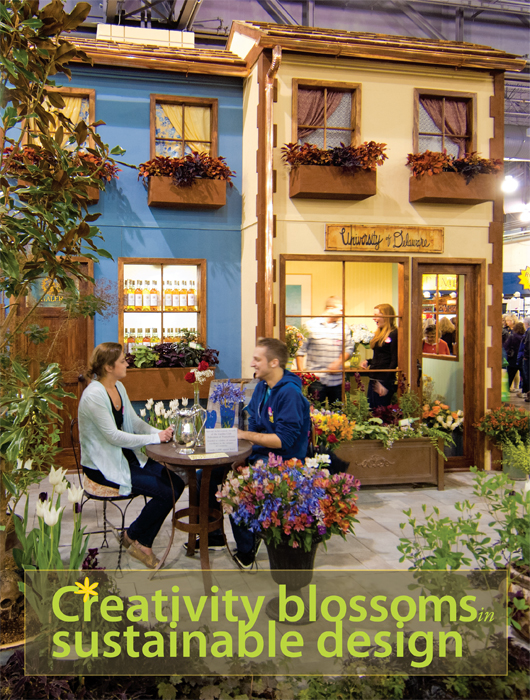 Photos by Jon Cox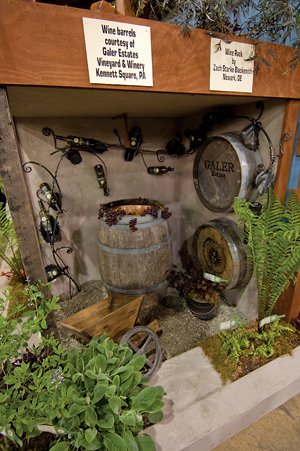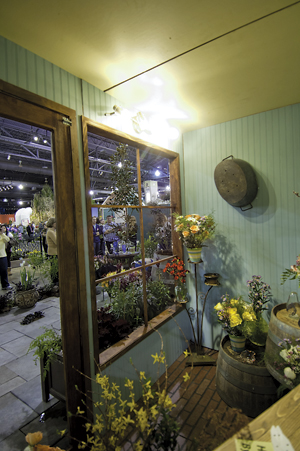 Part vibrant Paris street scene, part colorful springtime garden, part sustainability demonstration—the exhibit that won a special award for creativity and design at the 2011 Philadelphia Flower Show was all that and more.
Created by an interdisciplinary team of UD faculty and students, the artistic, edgy and educational project highlighted the ultimate in environmentally sustainable gardening and rain harvesting. It was displayed in March at the popular and well-attended flower show, whose theme this year was "Springtime in Paris."
Project leaders Jules Bruck, assistant professor of plant and soil sciences, and Jonathan Cox, instructor in art, said they decided to create a model two-story structure resembling a Paris street scene. The purpose, they said, was to be both aesthetically pleasing and educational, informing spectators of the values of residential rain harvesting.
"The two facades represent a flower shop on one side and a winery on the other," Bruck says of the final design. "The front represents a vibrant cafe and shows rain coming out of gutters into decorative rain storage systems that can be used to water the street trees and containers. The backyard shows the 'Paris underground' and the 'basements' of the two shops."
The exhibit sought to encourage visitors to consider collecting rainwater at their own homes through a variety of means, such as placing rain barrels under downspouts, creating an underground cistern or designing a rain garden. Such a garden, Bruck says, makes sure "all the rainwater on your property is graded toward a garden full of plants that can handle wet conditions."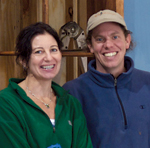 Photo by Danielle Quigley
The rain garden also allows rainwater to naturally percolate back into the ground, which filters and cleans the water naturally. When homes are not set up for harvesting, rainwater typically flows into storm sewers and then into a watershed.
"So anything you've applied to your lawn in terms of chemical fertilizers, any detergents you've used to wash your car, any oil that's on your driveway, all gets swept away with that rainwater into the storm system, which typically ends up in streams and rivers," Bruck says.
Students from the colleges of Agriculture and Natural Resources and of Arts and Sciences worked on the project, growing flowers in UD's Fischer Greenhouse, designing the rain storage system and constructing the finished exhibit. Anthony Middlebrooks, associate professor in the School of Public Policy and Administration, helped out with the project by having his leadership students work on a design challenge that focused on the educational aspects of the show.
"Having the combination of art and science students makes sense when you are incorporating design, creativity and the natural world into a cohesive educational installation," Cox says. "We were all grinning ear to ear as we talked to visitors [at the flower show] and further explained the benefits of rain harvesting to the public."
Generous donations from alumni and others helped support the project, which was funded through UD's Delaware Design Institute.