The University of Delaware's growing research enterprise is fueling discovery and invention on a scale we've never seen before, and we're leveraging those assets more effectively. We're bringing science and technology companies into the state and assisting home-grown ventures. We're brokering big regional partnerships in industries vital to Delaware's prosperity, like health sciences, energy and national security.
We're educating the leaders who will sustain a thriving Delaware, and—every day—we're reinvesting ourselves in the people and the neighborhoods of the Diamond State.
We're making Delaware a state in which talent and innovation attract talent and innovation; where dynamic people demand a dynamic environment—rich in the arts, humanities and culture; where ingenuity is valued, ideas flourish and creativity thrives. And the benefits accruing from this kind of community are incalculable.
Delaware is rising.
Delawareans First
As the state's flagship university, UD puts Delawareans first. In terms of admission to UD, that means Delaware students have a big leg up on those from out of state.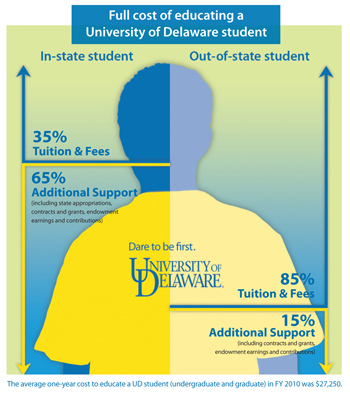 In 2006, UD launched its Commitment to Delawareans. We promised admission to all in-state students who took certain courses in high school and earned qualifying grades in them. If Delaware students follow this "academic roadmap" preparing them for college-level work, they're in. In fall 2010, nearly 89 percent of in-state applicants were admitted to UD.
Of course, access is as much about affordability as academic preparation. And so, in 2009, the University pledged to meet the full demonstrated financial need of in-state students and to cap students' debt at one-quarter the cost of a four-year UD education.
It Pays to Serve
Last year, 12,000 UD students dedicated 160,000 hours to service learning, community-based research and volunteer projects. Those efforts contributed $4 million in goods and services to Delaware's economy—$6.7 million to the national economy—and provided, at no charge, services that otherwise would have cost $1.4 million.
The Gift of Higher Education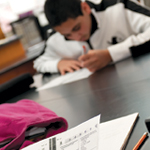 The economic downturn continues to constrict state support to the University; state appropriations that made up 17 percent or more of UD's operating budget from 2004 through 2008 will dip to less than 12 percent this fiscal year. In these challenging times, gifts from donors are an increasingly important source of revenue.
Some of these gifts go to interests designated by the donor—for instance, student scholarships, community learning programs or capital projects. Others are unrestricted, going to the areas of greatest need. In both cases, private giving reduces UD's reliance on tuition and state appropriations to fulfill our teaching, research and service missions.
Many gifts to UD—from friends, corporations, foundations and other private entities—go to our endowment, a permanent pool of money that must be maintained in perpetuity. The donors' original gifts are invested, and a portion of the return is used according to each donor's wishes. The remainder is reinvested to grow the account. In this way, we preserve the endowment's principal to provide funding for future generations.
Campus Building Boom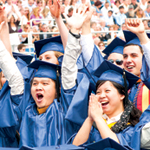 UD is building for the future. A major program of capital investment will touch every aspect of students' college experience. With planning or construction under way for a UD bookstore, improved and expanded athletic and recreational facilities, a new housing complex and dining hall, renovated classroom space and new state-of-the-art research and teaching labs, UD is a beautiful work in progress.
UD takes a long view toward campus transformation. We're examining our built environment, green space, utility infrastructure, vehicle and pedestrian traffic, parking and environmental impact to ensure that—separately and together—the University's dramatic changes support a connected campus, an engaging environment and opportunities for responsible, sustainable growth.
Turning Ideas Into Assets, and Assets Into Jobs
The Office of Economic Innovation and Partnerships (OEIP) works with UD faculty, researchers and students to turn discovery into invention, and to leverage that intellectual property (IP) through licensing and commercialization.
OEIP works closely with UD's inventors throughout the IP development process—from disclosure through startup launch and beyond. The office is building UD's entrepreneurial culture and capacity, creating more opportunities for entrepreneurship and a tight network supporting those who pursue it.
With its many partners inside and outside UD, like Newark's Delaware Technology Park, OEIP has helped create 2,356 direct Delaware jobs—and more than 6,500 direct and derived jobs—which, in turn, produced $508 million in labor income.
UD's Economic Impact in the Diamond State and Beyond
The University of Delaware is one of the state's largest employers, with nearly 3,900 faculty and staff earning $350 million a year—money that's pumped back into neighborhoods and communities statewide. UD's payroll and purchases together contributed $638 million to the regional economy (Delaware, Maryland, New Jersey and Pennsylvania).
Students spent about $65 million off campus last year, and visitors to UD—about 700,000 of them—contributed another $18 million. As a group, UD's alumni are an economic force. Of the 148,000 alumni living and working around the world, roughly 41,500 call Delaware home, and thousands more live in neighboring states. Throughout the four-state region, these Blue Hens stimulate $1.5 billion in spending.
Last year, the entire UD community—the University itself; its employees, students, visitors and alumni; the companies it's helped launch and develop—stimulated $3.9 billion in spending in Delaware alone, and those expenditures supported more than 30,000 jobs.
UD remains one of the best investments around: Last year, every state dollar allocated to the University returned $12.95 to Delaware's economy.