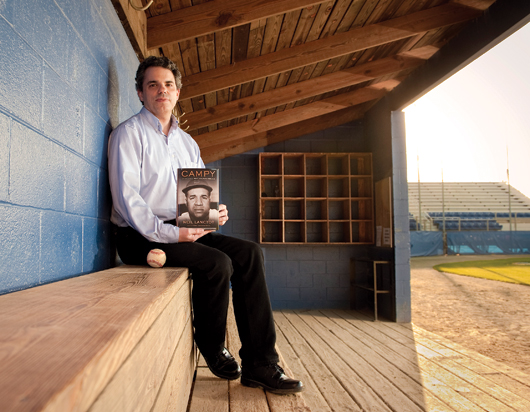 Photos by Evan Krape
Neil Lanctot was researching his well-received 2004 book, Negro League Baseball, when he became interested in the life of the pioneering African-American catcher Roy Campanella, whose Hall of Fame career ended when a car accident left him paralyzed.

From academic research to personal memoirs, children's books to professional career guidance, books written by authors with UD connections could fill more than a few library shelves.
To showcase books written by University faculty, staff and alumni, a new website now provides a centralized source of information at www.udel.edu/udauthors.
It highlights a sampling of works in a rotating display and provides a variety of quick search methods to find books of interest. Searches can be conducted alphabetically or by author affiliation, author name, publication year, publisher or subject. At the bottom of the webpage are a list of resources, information about and a link to the University of Delaware Press and submission forms for authors to complete.
UD Authors was developed by the Office of Communications and Marketing in cooperation with the Office of the Deputy Provost.
That interest has now led to his latest book, which also is garnering enthusiastic praise from readers and reviewers. Campy: The Two Lives of Roy Campanella, published by Simon & Schuster, has been called "a rich and thoroughly enjoyable book" by Los Angeles Times editor and reviewer Russ Stanton.
Lanctot says Campanella first attracted his attention because of his outstanding career that began in the Negro Leagues and continued in the newly integrated major leagues, which he joined in 1948, a year after Jackie Robinson. With the Brooklyn Dodgers, Campanella played in five World Series and was a three-time National League Most Valuable Player and an eight-time All-Star, known for both offensive and defensive strengths.
The book details the racism Campanella faced as the son of an Italian-American father and African-American mother, his sometimes difficult personal life that included three marriages and his estrangement from some of his children, his contentious relationship with Robinson and, of course, the accident in 1958.
In his "second life" as a quadriplegic, the first black catcher in the major leagues went on to become another kind of pioneer, speaking and serving as a role model for others with disabilities and writing an inspirational book, It's Good to Be Alive. After extensive work with physical therapists, Campanella regained some use of his arms, and he later established a foundation for physical therapy scholarships.
"Lanctot has chosen his subject well," Steve Roberts wrote in The Washington Post, "Campy did plenty of [good] in his life. He might not have been a crusader, but his bat and his glove spoke for him. So did his wheelchair. He helped diminish two profound prejudices, against non-whites and non-walkers."