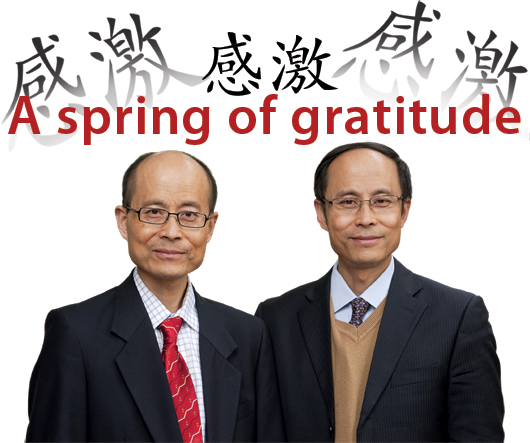 Photo by Evan Krape
Brothers give thanks by giving back
ALUMNI | Growing up in 1970s and '80s China, Ping Xu, EO '94M, BE '99M, and Ming Xu, EO '93M, weren't allowed to study too late into the night. The twins, determined to ace their college entrance exams, had a solution.
"We turned the clock back," Ping says, laughing with his brother at the thought of tricking their mom to let them cram a little longer.
Knowing that attending college was highly unlikely at that time in their country, education was a priority in the tiny Shanghai apartment they shared with their elder brother and parents, both factory workers. A small space between the family's two beds was big enough for a table, which the twins fought over for study time—another memory that elicits laughter from the pair.
Thankfully, they say, their studying paid off, and Ping and Ming Xu were among just five students admitted to college from their class of 500. Now they're successful businessmen living in Newark, Del., and North Brunswick, N.J., respectively. They continue to be thankful for that initial opportunity, and they are eternally grateful to those who helped them through the life-or-death challenges they faced once their education took them to the States.
"We were among the few who had had a privileged education," Ping explains, "but we knew we needed to pursue higher standards of living, to learn much more, so I applied for college here."
Both had earned bachelor's degrees on scholarship, Ping from Shanghai Normal University in English and Ming from Shanghai Maritime University in international transportation management. Next, each got a graduate degree at Shanghai Maritime University in international economic law. Then Ping, the older twin by 10 minutes, was accepted to the University of Delaware master's degree program in marine policy in 1988. Ming followed a year later.
While research assistant positions made their UD studies financially possible, a new hardship presented itself as Ping wrapped up his degree: He began suffering from kidney failure. Doctors weren't sure what initially caused the issue, but they knew he needed a new kidney, and fast. They looked to the most obvious donor, his twin brother.
"If [Ming] can't be the donor, they will experience very difficult times," Ping's physician was quoted in a 1990 Review article. "I'm just not sure what would happen."
Meanwhile, Ping endured hemodialysis three times a week to remove waste products from his body, and the medical bills mounted. The College of Earth, Ocean, and Environment took donations to help the struggling students, as did groups including the UD Chinese Student Association and the Wilmington Chinese church they attended.
With a supportive community rallied around them, the Xus prepared for surgery. At the last minute, however, doctors identified an issue that could potentially cause the same problem in Ming. The operation was called off, and Ping was put on a waiting list for a new kidney.
He received one two years later, and he and his brother have never forgotten the kindness extended to them during that difficult period.
They've since made it their personal priority to contribute to the local and UD Chinese communities that helped them so much.
"In China we say, 'A sprinkle of grace received in need shall be repaid with a gushing spring of gratitude,'" Ming says. "That's our philosophy."
They've spent countless hours assisting students, scholars and professionals new to the region. Ping is a state court interpreter who often offers his services pro bono for Mandarin speakers in dire need. When he went back to earn his master's degree in business administration from UD, he was president of the Chinese Students and Scholars Association. Since that time, his brother has served as the group's adviser. Under Ming's initiation, the association now arranges airport pickups for all new UD students arriving from China and provides them with temporary lodging. The effort has meant some middle-of-the-night drives to regional airports by the twins themselves.
Ming also advises UD's Dragonfly Dance Club, which promotes the art of Chinese dance. And the two have or are currently serving as board members of the Delaware Chinese American Association, as active members of their church and as leaders of the Chinese American Community Center in Hockessin, Del.
The brothers fit their volunteer work into already-busy careers and personal lives. In addition to interpreting, Ping is a Realtor and is slated to begin law school at Widener University this fall. Ming owns an import-export company as well as a ship chartering business. At his brother's urging—the two speak by phone every day—he's also earned his real estate license.
"I tell him, if I can do well, you can do well. We're identical," Ping says with a smile.
Their adult lives haven't been without challenges, however. Ping's initial donor kidney failed. In 2007 he got a new one, from his wife, Boon Loh BE '97M. "I owe forever to my wife," he says.
And his brother? "We're so close," Ping says, Ming chiming in, "We are just so attached to each other…We'll always be thankful for what we have."
Article by Elizabeth Boyle