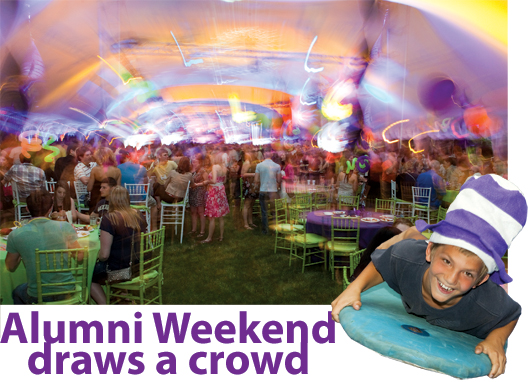 Photos by Ambre Alexander, Kathy F. Atkinson and Evan Krape
ALUMNI | During the first weekend in June, the University's Newark campus was filled with throngs of exuberant Blue Hens—not the students who usually keep campus buzzing, but alumni of all ages returning to celebrate Alumni Weekend 2011.
A new tradition that began in 2009 and is continuing to grow in popularity and size, the weekend drew more than 3,000 people this year. Those attending participated in such events as Mug Night, the Blue Hen 5K run, a Saturday picnic on The Green, President Patrick Harker's "State of the University" address and the induction ceremony for 10 new members of the Alumni Wall of Fame.
"This is my favorite weekend of the year," says Monica Taylor, vice president for development and alumni relations. "Alumni Weekend is an amazing opportunity for people to connect, relive their memories of UD and learn about the important and exciting things that lie in store for the University."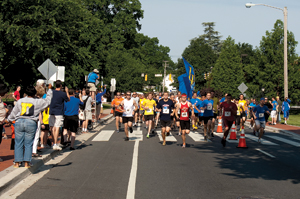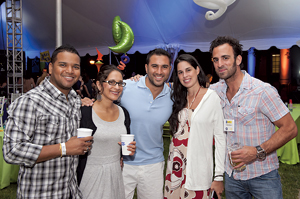 Cindy Campanella '84, director of alumni relations, agrees. "We plan and anticipate for this weekend, and then when it finally arrives, campus is just transformed by the spirit and enthusiasm of our alumni," she says. "People love UD, and we give them the opportunity to show that."
The weekend also included a variety of receptions held by colleges, programs and reunion class years (See article on page 58), bus and walking tours of the campus, lectures, wine- and beer-tasting events, a professional networking workshop and the opportunity to visit the UD Museums, Morris Library and the Outdoor Pool, among many other fun, educational and nostalgic activities.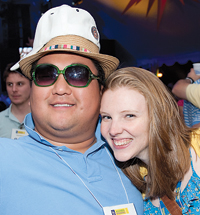 "I can truly say I have never been prouder of my University or happier to call it my home away from home," John Visconi, AS '07, says of the weekend. "The staff was friendly and helpful, and all events I attended were worth the trip to UD. My friends and I have committed to making this an annual reunion." Representing a different generation of alumni, P. Robert Herr, EH '61M, says he attended the weekend to mark his 50-year reunion and found himself "very impressed" with what he calls a "top-notch" program of events.
"The kindness and polite treatment of us old-timers was excellent," Herr says. "I have always been proud of my association with UD, and this weekend will add to it."
In addition to enjoying the festivities, classes celebrating their fifth, 10th, 15th, 20th, 25th and 50th reunions made gifts to the University totaling $700,855. Those gifts help ensure the continued success of UD and keep the tradition of academic excellence strong, Taylor says.
"So many people tell me they credit UD for their success," she says. "They had a professor who mentored them, they gained a strong foundation for a career, or they even met their spouse. This weekend is about recognizing those beginnings, and it is also about working together to make sure future generations of Blue Hens have the same opportunities."
On Saturday afternoon, June 4, Harker welcomed alumni, family and friends back to campus with a "State of the University" report that highlighted accomplishments of the past year and initiatives and challenges for the future.
The town-hall style gathering in Mitchell Hall focused on the University's core message, "Dare to be first."
"We expect [our students] to invest themselves in the world's communities and people, in issues of broad humanistic concern," Harker told the audience. "We expect them to solve tough problems. This is what we believe a UD education is all about."
He urged alumni to walk around campus to fully appreciate the significant construction projects that are under way, which will add or improve a total of more than 900,000 square feet of space. These include the UD/Barnes and Noble bookstore at Main and Academy streets; an addition to the Bob Carpenter Center to house practice and recreational space as well as offices; and the UDairy Creamery on South Campus, a new student-operated business producing ice cream from the University's own cows.
A longer-term project is the Interdisciplinary Science and Engineering Laboratory at Lovett Avenue and Academy Street, which Harker called a "marquee project" and one that is "hugely important" to enhance UD's growing science and technology programs, with a planned opening in summer 2013. Others under construction include a new East Campus housing complex on the former Gilbert Hall site and the largest project, the Science and Technology Campus across from Delaware Stadium at the former Chrysler site.
All the initiatives in campus construction and in expanded educational opportunities for undergraduate and graduate students are being carried out in a tough economy, Harker reminded the audience. Support from the state, for example, has declined to less than 12 percent of UD's operating budget, with additional cuts expected next fiscal year as Delaware struggles with its own tight budget.
"In this climate, we absolutely need donor support to reduce our reliance on state and tuition dollars," Harker said, thanking alumni for their generosity.
In answer to a later audience question, he added that alumni support for UD has benefits beyond the dollars they contribute. Staying connected means that alumni in a position to recruit employees or offer internships, for example, will think of their alma mater and reach out to network with fellow Blue Hens.
In addition to financial challenges, Harker cited the need for the University to become more diverse in all aspects—racially, ethnically, geographically, economically and in ways of thinking—and said various initiatives, such as the Commitment to Delawareans and programs to recruit and mentor a variety of students, are addressing this issue.
But more needs to be done, he said: "We cannot—we will not—be the university of our aspirations until we know that everyone is contributing to our greatness."
For more about Alumni Weekend, see www.udel.edu/alumniweekend. For photos from the events, see www.udel.edu/udphotos.