Wall of Fame gains 10 outstanding new members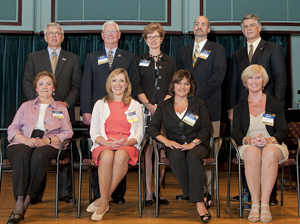 Photo by Duane Perry
ALUMNI | Ten alumni were honored for their exceptional achievements in a Wall of Fame induction ceremony held during Alumni Weekend festivities in June.
The ceremony honored Leon W. Adams Sr., AG '41; Douglas Blonsky, AG '81; John E. Eckerson, BE '87; Edgar N. Johnson Jr., HS '67, EH '70M; Nancy Lee Karibjanian, AS '80; Rita Mariani Landgraf, EH '80; James H. Miller, EG '77; John W. Morgan III, AS '79; Patricia Orris Robertson, EO '72M; and Suzanne McMahon Sears, BE '78.
"Our recipients' level and diversity of accomplishments serve as a testament that a degree from the University of Delaware provides the foundation for the many wonderful opportunities that await our graduates," said Alan Brayman, BE '73, outgoing president of the UD Alumni Association, which sponsors the awards.
"Many Blue Hens—those enrolled and those already graduated—have the opportunities and advantages they do precisely because of the people we honor today," UD President Patrick Harker said in congratulating the new members. "And so, when I consider our 10 Wall of Fame inductees, I see the University of our aspirations."
Mr. Adams, who died in 2009, owned an insurance agency in Newark, Del., and in 1986 earned the industry's highest honor, "Agent of the Year," from Travelers Insurance. He was a lifelong supporter of the University and Blue Hen football.
Blonsky is president of New York's Central Park Conservancy, overseeing the park's daily operations, maintenance and capital projects. He regularly hosts UD students and faculty visiting Central Park and has returned to campus to meet with students.
Eckerson founded Claren Road Asset Management, a $5 billion long-short hedge fund, in 2005 with two other former Citigroup executives. He is a member of the Lerner College Advisory Board and with his wife, Jennifer, established an endowed scholarship.
Johnson has spent his entire professional career at UD, serving as director of athletics from 1984 to 2009, one of the nation's longest tenures among NCAA Division I athletic directors. He now is an associate professor of sport management.
Karibjanian, a well-known TV journalist for more than 20 years, is vice president of Delaware First Media, Delaware's statewide multimedia news service. She also serves as an adjunct broadcast journalism professor in the Department of Communication.
Landgraf serves as secretary of Delaware's Department of Health and Social Services, a key state cabinet post. She previously was executive director of the Arc of Delaware and has chaired the UD Center for Disabilities Studies advisory council.
Miller, who has more than 35 years of diverse experience in the electricity industry, is chairman, president and CEO of PPL Corp. He has been a speaker in the Department of Electrical Engineering's Distinguished Lecture Series on campus.
Lt. Gen. Morgan, the highest-ranking alumnus now serving in the Army, commands Headquarters Allied Force Command Heidelberg, a multinational NATO headquarters. He has remained involved with UD's Army ROTC program and cadets.
Robertson and her husband, Charles, started NanoDrop Technologies Inc., where she was a managing partner until it was sold in 2007. She was a founding member and serves on the College of Earth, Ocean, and Environment's Dean's Advisory Council.
Sears is vice president of global market development and a corporate officer of the Kimberly-Clark Corp. She and her husband, James, have served on the UD Parent Board and received the Alumni Association's Outstanding Alumni Awards in 2006.
Article by John Brennan