Fashion that's ethical by design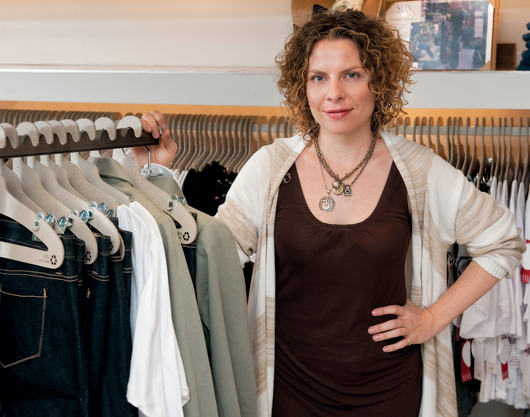 Photo Evan Krape
ALUMNI | With her Philadelphia flagship boutique, Sarah Van Aken, AS '98, is not only making her presence known in the fashion industry but also making a difference through the sustainability of her creations.
She established SA VA in 2009, and the clothing store soon received attention from Philadelphia Magazine, which named it the "Best New Boutique of 2010." It features sustainable options including locally made, fair trade, hand made, organic and all-natural items.
"We are an ethical apparel company," Van Aken says. "We're very concerned with how our garments are made, who they're made by, what they're made with, how we interact with our customers and what happens to the garment at the end of the life cycle."
Although she didn't study apparel design at UD—she was a fine arts major—creating clothing concepts came naturally to her from a young age.
"I was making clothes out of curtains and old fabric at the time," she says of her college years. "I had maybe taken a merchandising class or two, but I was much more centered in art. I kind of always knew I'd go into clothing design; I just don't know if it was really that thought-out at the time."
After graduation, Van Aken worked in garment construction at a wholesaler in New York City. Soon after, she followed her hometown roots back to Philadelphia with hopes to become an artist. She says the death of a close friend helped her realize how short life really is and led her to pursue a distant dream.
The dream became real in 2005, when she created a line of custom-made men's dress shirts under the label Van Aken Custom. Since then, she has established SA VA and two other brands: Van Aken Signature provides made-to-order hospitality uniforms, and VA Private Label offers garment manufacturing services for companies.
Through her uniform business, Van Aken's clients include Tom Colicchio of the Top Chef TV show and Alfred Portale, celebrity chef and owner of the swanky Gotham Bar & Grill in New York City. Some of her other projects include uniforms for restaurants located as far away as Miami and London.
Currently, 90 percent of the clothing sold at SA VA is made in Van Aken's garment manufacturing center next door to the boutique, but she says things weren't always that environmentally or socially conscious. After receiving the start-up money for her first clothing company, she initially set up a factory in Bangladesh.
"I was essentially buying fabric in Italy or Turkey, which probably came from Egypt or another country, and I was shipping those textiles to Bangladesh," Van Aken says. "Then, I was shipping the resulting garments from Bangladesh to the United States."
She says the process bothered her because it seemed impractical and wasteful.
"I just didn't want to have a business like that anymore," she says. "I knew I had to either scratch this whole fashion thing or turn it into something that meant something to me or did something good for the world."
Since introducing SA VA, Van Aken says she cut her company's carbon footprint in half. Her switch to domestic labor also created local living-wage jobs through her partnerships with Philadelphia work-assistance agencies.
"Everybody [who works in the garment center] has health insurance," she says, "and we only buy fair trade textiles so we know what the working conditions were for all of the people who make the textiles we purchase."
Van Aken says the women who frequent her store are also sensitive to those standards.
"The typical SA VA customer is usually very educated and savvy, but she's particular. She has values; she has worldly concerns," the designer says. "We have the nicest customers—they're people who want to do good things in the world."
Article by Katie Speace, AS'11