Reunion classes mark special milestones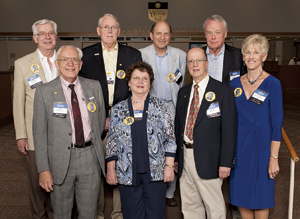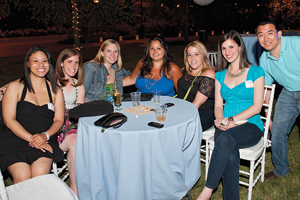 Photos by Evan Krape
ALUMNI | From the fifth to the 50th, milestone reunions drew Blue Hens from across the country back to campus to celebrate during Alumni Weekend.
Led by a group of 65 dedicated volunteers, some 540 alumni in the reunion classes were able to reconnect with friends, meet and network with fellow Blue Hens, rediscover the University and truly make a difference once again. It was more than just a party, alumni say—it was an experience to remember.
Dick Humphreys, EG '61, gathered nine of his former Kappa Alpha brothers—some who had not seen one another in 50 years—and toured their old fraternity house. Kasey Connors and Ashleigh Forsell, both AS '06, had worked together as student callers and reconnected through their class reunion committee.
"Serving as the co-gift chairs for our fifth-year reunion committee was a great experience," Forsell says. "Kasey and I hadn't seen one another since our time on campus, and it was great to work with her again. We've been able to reconnect so many friends and educate former classmates on the importance of giving back."
The reunion volunteers also created several new programs this year, including the addition of 15th and 20th reunion celebrations and a new "Behind the Scenes" tour for the Blue Hen legacy families. Carle Foster, BE '86, a UD Alumni Association board member and chair for his 25th reunion, worked with the Office of Alumni Relations and several Student Alumni Ambassadors to create a special tour where current and prospective students could hear about UD today.
During their planning meetings, reunion volunteers said, they heard a common theme as alumni reflected on their time at UD: Regardless of generation, Blue Hens enjoyed their experience and believe the education and opportunities they received shaped their futures.
"UD gave me so many of the friends I love today, the confidence to go after my hopes and dreams, the skills to be a good businesswoman and the desire to give back to my community," says class programming chair Tracy Arra, AS '96, explaining her interest in staying involved and giving back.
The reunion classes also played a key role at the "State of the University" address during Alumni Weekend, where representatives from each class, along with two of the newest alumni from the Class of 2011, presented gifts totaling $700,855.
Many alumni, including class gift chair Bob Pritchett, EG '61, chose to increase or make additional gifts this year in honor of their reunion. "Continuing to support the Sue O'Day Pritchett Scholarship Fund, established in memory of my mother to support education students, and investing in the new Interdisciplinary Science and Engineering [Laboratory] was extremely important to me," Pritchett says.
As Alumni Weekend continues to grow, additional classes will be added with the ultimate goal of 10 milestone reunions celebrated each year. None of this would be possible if it weren't for the dedication of volunteers, says Monica Taylor, vice president for development and alumni relations. "Alumni volunteers are the backbone of our institution and ambassadors for our students, faculty and programs," she says.
Your help is needed for 2012
At next year's Alumni Weekend, June 1-3, the Classes of 1962, 1987, 1992, 1997, 2002 and 2007 will celebrate their milestone reunions. Members of those classes are encouraged to join their fellow Blue Hens to make each class reunion a success and make sure their class celebrates in style in 2012.
If you are interested in helping plan your reunion, please email UD-reunions@udel.edu or call (302) 831-2104.