Pianist, composer enjoying notable success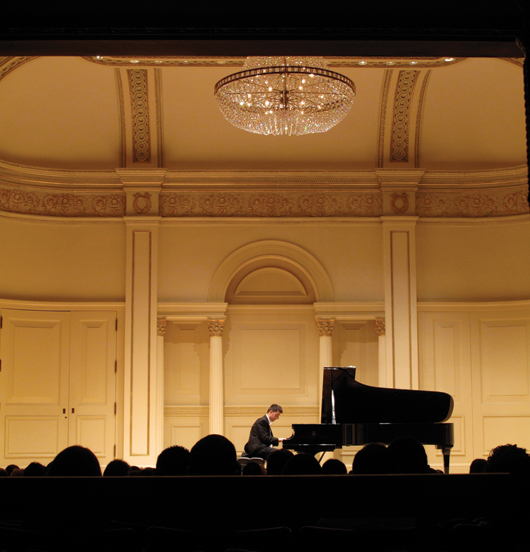 Photos by Caroline Santa
ALUMNI | Leonardo Le San grew up in Santa Rosa De Cabal, Colombia, listening to musicians and vocalists perform at parties and other gatherings, dreaming of his own future. "I knew that this job was the job I somehow would want to have," he says.
Today, Le San, who graduated from UD as Leonardo Santa in 2005 with a degree in piano performance, is making a name for himself as a classical pianist, composer and recording artist.
As a child, he listened to artists such as Placido Domingo, introduced to him by his father. "My father, Rubiel, immigrated to the U.S. when I was 6 years old to forge a future for us so that someday we could attend an American university," Le San says. "I was devastated when my dad left Colombia because we were all very close, and music became my escape from the reality that many immigrant families suffer every day."
"After I took that course, it was like, 'I want to do this for a career,'" she says. "But I didn't think that it would happen."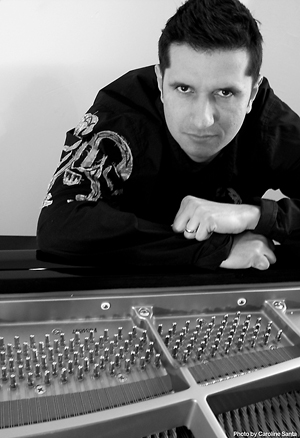 Eight years after his father established himself in the United States, the entire family joined him, and Le San was able to continue his studies at the Wilmington (Del.) Music School and eventually at UD.
Thus far, Le San has accumulated awards, recognition and praise for performances in prestigious locations. He released his first album in 2006, and by 2008 he was among the top 20 on iTunes in the category of Liszt's "Mephisto Waltz" recordings. In 2010, he won the El Award given by La Prensa, the oldest Spanish-language newspaper in the U.S., for the most outstanding and influential Latinos in New York's Tri-State Area. The same year, the World News Network presented Le San's video interpreting Chopin's "Revolutionary Etude."
"As a young child I dreamed of performing in New York City and having my own record released around the globe," Le San says. He debuted at Carnegie Hall in June 2010 and dedicated his performance to Colombia's bicentennial. Soon after, the Epoch Times recommended Le San's concert as one of the newspaper's "NYC Event Picks."
Le San recalls a Dec. 16, 2010, private recital celebrating Beethoven's birthday at the Harvard Musical Association as "another very important concert for me as an artist," adding, "I was also very happy to have some wonderful friends and UD alumni living in Boston as part of the audience that night."
From his earliest experiences with music lessons, Le San says, he knew what his instrument of choice would be: "I just could not separate myself from the piano—I sensed that it had no limitations." Today, along with playing the piano, he composes music.
"I was about 11 years old when I began composing," he says. "When I compose, I feel a bit removed from the world. It really feels like some other force or galactic energy such as dark matter is working through me."
Le San attributes much of his success both personally and professionally to the University, where he met his wife, Caroline (Letham), AS '05, and had professors and mentors such as music faculty members Marie-Christine Delbeau and Jennifer Barker. "At UD I met great people that I now consider friends for life," he says.
"I consider myself fortunate because many people around the world dream of coming to a great American university. I think that UD is one of them. In the end, it is about the music and how the artist communicates to the audience. I would like to motivate the new students that will be coming to UD's music school, or any art or creative students, to think big."
Article by Kayla Codina, AS'12