Annual lecture a tribute to professor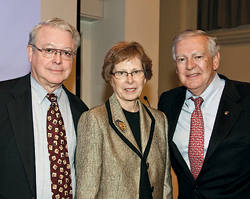 Photo by Doug Baker
ALUMNI | No matter what people look like or where their families have lived for generations, acclaimed fossil hunter Donald C. Johanson says, the qualities that make them human can be traced to a single location.
"Each and every one of us in this room, regardless of the color of our skin, is an African," Johanson told a standing-room-only crowd at the UD campus in April for the annual Dr. Arnold M. Clark Memorial Lecture. "Whenever we grasp a branch of the human tree, its roots go back to Africa."
Johanson, founding director of the Institute of Human Origins at Arizona State University, is best known for his groundbreaking 1974 discovery in Ethiopia of a 3.2 million-year-old skeleton dubbed "Lucy," which is viewed as a transitional fossil between ape and human. His talk at UD was made possible by Dr. Howard Hudson, AS '63, who established an annual lecture as a tribute to a favorite professor and mentor from his undergraduate days as a biological sciences major.
Now an anesthesiologist in Allentown, Pa., Hudson created the lecture series in memory of the late Prof. Arnold M. Clark, a member of UD's biological sciences faculty from 1946-1981. Hudson and his wife, Patricia Hudson, EH '63, have attended each of the Clark lectures since the series began in 2007.
In the most recent talk, Johanson said Lucy has become "an icon of paleoanthropology" and a benchmark against which later discoveries have been compared as scientists seek to understand where various fossils fit into the evolutionary process. But Lucy was just the start, he said, describing how paleoanthropologists have since found more than 500 fragments of her same species at various sites in Africa.
Based on genetic information, it's clear that humans originated in southern Africa and moved from there into other parts of the world, he said.
"We are all united by the past," Johanson said, calling for humanity to take responsibility for protecting the natural world for future generations. "Today, we are globally a common species. We are the ones that survived."