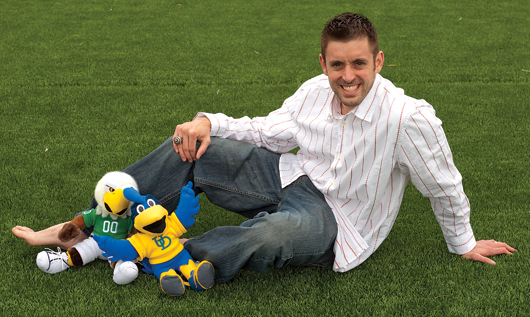 Photos by Kathy F. Atkinson
Eagles' mascot leaves the nest
ALUMNI | An advertisement on a campus bulletin board and a random street encounter with the University's mascot, YoUDee, was how it all began for Ryan Hughes, BE '99. "I was simply in the right place at the right time," he says.
After spotting the notice about mascot auditions in September 1995, Hughes tried out and hasn't looked back since. As one of two YoUDees during his stint as the beloved mascot, he was kept busy and had plenty of time to soak up all that he could about the art of working in costume.
He describes the University's mascot program and his own experiences in enthusiastic terms. "UD cares about the mascot program," he says. "It's business on the outside of the costume and fun on the inside."
Directly after graduation, Hughes took his abilities to the next level. He made the short move to Philadelphia to take on a new identity as SWOOP, the Philadelphia Eagles mascot. He continued with the organization for the next 12 years, only recently leaving the position.
The life of a professional mascot is definitely not a typical job, Hughes says. It is not 9 to 5 and there is no daily routine, but it is full time—and then some—with SWOOP attending an average of 350-400 events per year.
"SWOOP is part of people's families," Hughes says, noting that the 6-foot-3, 216-pound bird has even been on hundreds of Philadelphia fans' wedding guest lists.
Although Hughes says he's loved his job as a professional mascot ("I get to act like a child, and people accept it"), the time has come for him to pass on his wings and soar in a different life direction. In May, he and his family moved to Napa, Calif., where Hughes is taking on his second passion in life—the wine industry.
In his new job as a personal sommelier with Bounty Hunter Rare Wines and Provisions, which sells wines worldwide, he works with customers to figure out which wine best suits their preferences.
To many people, this career change may seem extreme, but Hughes considers it simply the next step. "I have always had a palate for wine, and after my daughter was born I knew it was time to take the plunge," he says, especially after he was recruited by a Philadelphia Eagles fan from Napa.
Hughes says he'll miss the physical activity and the fans from his former role, but "I am going from one dream job to the next, and when you are doing things you love you're not really working."
Article by Greta Gibboney, AS'11
Former YoUDees flock to pro teams
Ryan Hughes isn't the only former YoUDee to continue performing as a mascot after graduation or to return to UD periodically for special events.
"It's a support system," he says. "We come back to the University to give back to the program that helped us all get started."
Current professional mascots who are alumni include: Robert Boudwin, BE '97, who is Clutch of the Houston Rockets; Christopher Bruce, BE '02, Reggy of Raymond Entertainment Group; Brandon "Summy" Williams, AS '03, Poe of the Baltimore Ravens; Kevin Giambi, EH '07, Slapshot of the Washington Capitals; Corey Inganamort, BE '08, Screech of the Washington Nationals; Frank Ventresca, BE '04, AirSwoop of the Philadelphia Eagles; Bart Piegdon, HS '09, Archie of the Reno Aces; and Nicholas Tennant, BE '07, Wool E of the Durham Bulls. In addition, Tim Dalby, EH '99, who was not a YoUDee while a student, now is Rocky of the Wilmington Blue Rocks.