Homecoming 2011: Nov. 11-13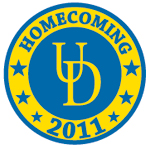 ALUMNI | Save the date for this year's Homecoming celebrations, featuring some new activities, some favorite traditions and—of course—football, with the Blue Hens taking on Richmond.
On Friday, Nov. 11, the weekend begins with a ceremony honoring the newest recipients of the Presidential Citation for Outstanding Achievement, which recognizes graduates of the last 20 years for their professional and/or public service activities.
After the ceremony, the "Blue Hens on Main" festivities will start at Trabant University Center, followed by an unguided tour of Main Street restaurants and bars, with all attendees receiving a limited-edition Homecoming accessory. Alumni are encouraged to bring friends along for the fun.
Football kicks off Saturday afternoon, Nov. 12, at Delaware Stadium. Visit www.bluehens.com to purchase tickets.
Receptions, affinity gatherings and other activities are scheduled throughout the weekend. For more information, visit UDconnection.com/Homecoming.