Harrington Theatre's first adviser takes stage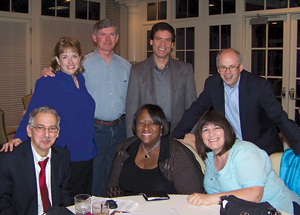 ALUMNI | A student theatre group that formed with a budget of $3.12 and was planning to put on a single production recently celebrated 35 years of performances.
The annual Spring Gala of the Harrington Theatre Arts Company (HTAC) was held in May and drew 70 current students as well as several alumni of the original company. The group's founding adviser, Mike Angelini, AS '76, was honored with an Alumni Recognition Award.
"We had no money but lots of energy," he said as he accepted the award. "And passion—we had passion for the theatre, and formed lasting memories and friendships that have lasted 35 years."
HTAC began in 1975, when Bill Berryhill and Bob Higgins gathered a group of their fellow students in the Harrington residence halls to put on the play Doing a Good One for the Redman. A year later, Residence Life directors Karen Schaeffer and Theresa Powell decided that the company should continue.
"We could tell there was an unmet need that a student theatre company would answer," says Powell, now vice president of student life at Temple University.
Angelini, a Harrington hall director, was tapped to reorganize the group and create theatre programming in the residence halls. An anthropology major with no theatre experience, he gathered a group of students to put on a children's show, Beauty and the Beast. Nine students showed up at that first meeting, and membership grew to 40 in a short time. Those early company members are now teachers, professors, doctors, artists, counselors, legal aides, lawyers, nurses, missionaries, fundraisers, engineers, managers, writers and more.
Today, HTAC is still going strong as a registered student organization with an estimated 1,000 alumni.
Alumni interested in an HTAC affinity reunion during next Alumni Weekend, June 1-3, 2012, should contact Robin Wray, director of annual giving, at rwray@udel.edu or (302) 831-6029.
Article by Robin Wray, AS '80