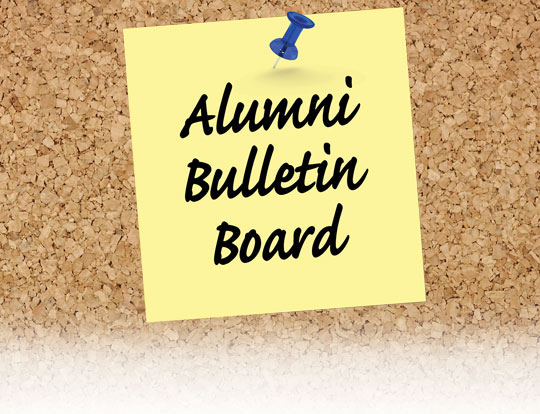 Nominate or volunteer to stay involved
Do you know of a deserving Blue Hen who should be recognized or who wants to get involved? The UD Alumni Association (UDAA) is seeking nominations for awards and for its board.
Nominations are being accepted for the UDAA Alumni Wall of Fame, which recognizes outstanding professional and public service achievements by UD graduates; for the UDAA's Warner and Taylor awards, which honor an outstanding woman and man of the senior class; and for the Milton Draper Student-Alumni Award, which recognizes a sophomore or junior for outstanding performance in fostering student-alumni interaction.
The UDAA also is seeking new directors for its board. A non-dues-based entity that is separate from UD, the association serves the more than 150,000 alumni around the world. Three men and three women will be selected to serve four-year terms on the board beginning July 1, 2012.
For more details and nomination forms, visit www.UDconnection.com or call the Office of Alumni Relations at (302) 831-2341.
Association honors exceptional seniors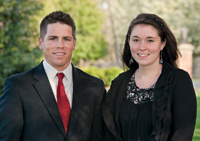 Photo by Evan Krape
The UD Alumni Association (UDAA) has selected Matthew Watters and Sarah LaFave as the recipients of the Alexander J. Taylor Sr. and Emalea Pusey Warner awards, respectively, as the outstanding members of the 2011 graduating class. The awards are given annually to recognize the senior man and woman who most exemplify leadership, academic success and community service.
Watters graduated with a bachelor's degree in neuroscience and a minor in political science. He has earned multiple awards, including a Rhodes Scholarship; has excelled academically; and founded the student groups Students for Haiti and the Society of Neuroscience.
LaFave graduated with an honors degree with distinction in nursing, was a member of the Writing Fellows Program and the School of Nursing's curriculum committee and founded a student service organization, Lori's Hands. She received a 2011 Jefferson Award for volunteerism.
Reception for students in Blue Hen families
More than 100 families attended special Legacy Receptions in April, held by the Alumni Association for admitted students with one or more alumni parents.
This year, all admitted legacy students received a postcard congratulating them on their admission, encouraging them to follow in their parents' footsteps and daring them to become members of the Class of 2015. The postcard prominently featured the phrase "Students Today. Blue Hens Forever," which will also be used on the Class of 2015 banner, to be signed by the newest Blue Hens after New Student Convocation in August.
In addition, an email was sent to the parent or parents who are alumni, congratulating them on their student's acceptance and encouraging them to attend a reception. At the receptions, several members of the UDAA board were on hand to talk to alumni, and Student Alumni Ambassadors and Blue Hen Ambassadors were there to answer questions from the current student perspective.
The UDAA was founded in 1846, and all alumni are automatically made members upon graduation during a pinning ceremony.
Wherever you live, there's an active club
Regional alumni clubs around the country sponsor numerous events, many supported by funding from the UD Alumni Association. For more details and to register to join fellow Blue Hens, visit www.UDconnection.com/events. Here are a few upcoming activities:
Aug. 26—Lancaster Alumni Club at Barnstormers baseball game

Aug. 28—New Castle County Alumni Club at Philadelphia Union soccer game

Aug. 31—Lehigh Valley Alumni Club at Iron Pigs baseball game

Sept. 13—Houston Alumni Club at Astros baseball game

Sept. 16—Baltimore Alumni Club Urban Pirate Cruise in the Inner Harbor

Sept. 21—Washington, D.C., Alumni Club at DC United soccer game and new grad "Welcome to the Neighborhood" event

Sept. 24—New York City Alumni Club at Mets vs. Phillies

Sept. 26—Philadelphia Alumni Club Golf Tournament at Rock Manor Golf Course

Oct. 13—New York City Alumni Club's "An Evening of Conversation and Connections" at Citigroup world headquarters. Leverage the power of the UD alumni network and improve your career at this special networking event. Connect with friends, make new contacts, and listen to successful Blue Hen panelists discuss their experiences in their current jobs and their career paths.

Oct. 22—Northern New Jersey Alumni Club at the Far Hills Race Meeting. Join UD alumni as they gather at the 91st running of The Hunt at Far Hills for mixing and mingling while the horses do the running. If you are already committed to another tailgate at the event, feel free to stop by and say hello to fellow Blue Hens. Just look for the UD flag to meet new alumni, find your neighbors and enjoy the outdoors. This is a rain-or-shine event, and food and drink will be included.

Oct. 22 -23—Boston Alumni Club at The Head of the Charles Regatta. The club is gathering at Reunion Village to cheer on Blue Hens rowing in the greatest fall regatta in North America and the world's largest two-day rowing event. All alumni, families and friends are invited to the party. This year, the tent will be open both race days.
Laundry, storage service benefits students, parents, UDAA
Lazybones Laundry and Storage Service will offer a discount to students who use its services and will also support the Alumni Association, under a new partnership. Laundry service includes pickup and next-day delivery of washed, folded and wrapped clothes and uses smelling standards, folding standards and a barcode system to prevent loss. Storage includes picking up items to be stored over the summer, winter break or term abroad, and Lazybones will return the items to wherever the customer requests when needed.
"We know that students can do their own laundry, but they have other things they could be doing like studying, and I guarantee they don't do their laundry like we do," says co-owner Robbie Johnson, HS '98.
Storage of such items as beds, microwaves and winter clothing is popular with students and parents. "They moved and stored all of the furniture and boxes," says Bob Zuckerman, whose daughter Jennifer used the service. "In the fall, they met her on time at her new apartment and delivered everything back in great shape."
Lazybones is offering UD students 10 percent off both services and will donate 10 percent of fees to the UDAA. For more about Lazybones' services and to schedule pickups and deliveries, visit visit www.UDconnection.com/lazybones. The online coupon code is LBUDAA.