Bidens open their home for alumni gathering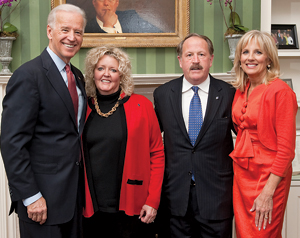 Photo by Evan Krape
ALUMNI | On a beautiful April evening in Washington, D.C., Vice President Joseph R. Biden Jr., AS '65, and his wife, Jill Biden, AS '75, EH '06EdD, hosted about 100 UD alumni, faculty and friends at the Naval Observatory, their official residence.
Guests from the Washington area and from across the country came together for the occasion.
UD President Patrick Harker opened the event by speaking about the opportunities that are being driven to Delaware because of ongoing research in health, energy, national security and defense, as well as the thriving community of creative and talented people who are attracted to the University. "We are profoundly grateful to Vice President and Dr. Biden for their support of UD and of U.S. higher education," he said.
The vice president praised Harker's vision for the University, noting that growth and change are within UD's grasp but will require the collective efforts of alumni, friends, faculty, staff, legislators, students and parents. He also spoke about his days as an undergraduate, recalling memories of campus life and of the professors who challenged and inspired him.
"The high point of the evening was Vice President Biden's remarks about how his years at the University, and his mentoring by particular professors, influenced his life and helped make him a success," said Ray Jacobsen, AS '71. "As he spoke, I think everyone in the room had their own recollections of their years in Newark and how the University helped prepare them for their futures."