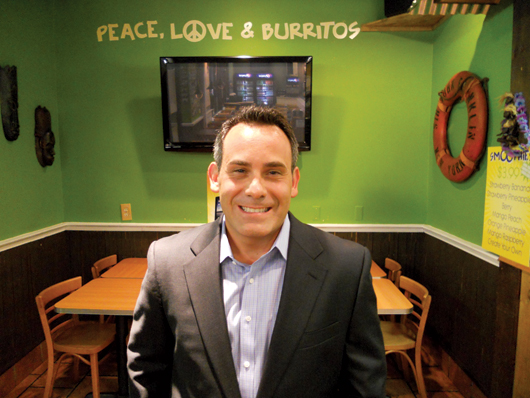 New burrito adds spice to business plan
ALUMNI | From childhood lemonade and iced tea stands in Newark, N.J., to grownup burrito and ice cream ventures along the East Coast, Paul Altero, BE '96, is a food-driven entrepreneur.
After getting a taste of business ownership at a young age, he says he knew he wanted to be his own boss, but he had the vision to take time to learn from big business before venturing out on his own.
Altero graduated from UD with a degree in hotel, restaurant and institutional management (HRIM), which led him to various executive roles representing established restaurant brands. "Going the company route was practical and safe," he says. "I also knew I needed a platform to truly 'learn' business, and several companies offered that."
Indeed, they did—Altero earned five promotions over 10 years, advancing to regional director of operations for Johnny Rockets and then for Friendly's. But it was at UD that he says he first discovered the food that would launch his entrepreneurial career.
"I was introduced to a burrito concept in the early '90s and fell in love with it," he says. "I began formulating a business plan for Bubbakoo's Burritos when I was at UD. The vision never left me and has expanded over time."
Altero traveled to California and Arizona to examine and study the taco-burrito concept. He experimented with the proper food, always incorporating fresh ingredients and meticulous preparation. At the end of the day, his research convinced him there was a market for his idea in New Jersey.
"I took a leap of faith with my long-time colleague, Bill Hart, and in 2008 we opened the first Bubbakoo's Burritos in Point Pleasant, N.J.," Altero says. "Bubbakoo's was an immediate success due to the outstanding food, atmosphere and staff."
That success didn't come without challenges, as Altero took on more behind-the-scenes work.
"I learned just how many expenses there really are to operate a business," he says. "I also quickly learned how many moving parts there are in a business, how slim margins can be when you first open, how hard you will work and how truly relentless owning is."
All those things may have set Altero back, but he credits his experience at UD, including his student leadership role as president of the Hospitality Club, for giving him the confidence to push forward.
"I learned the basics at UD—being capitalized, having experience, location-location-location," he says. "But I would hands down say that it was the confidence of the degree that launched me and made me want to succeed." He particularly credits Francis Kwansa, associate professor of HRIM, for being "the most important mentor of my life."
In fact, Altero recently shared his experiences with today's students, from UD and other institutions, as a member of a panel on "Minority Business Owners' Success Stories" at the fifth annual Hospitality and Entrepreneurship Summit held on campus in April. He emphasized the importance of finding good mentors, establishing relationships and networking.
"Work for and learn from a larger company before you go out on your own," Altero advised students. "Make mistakes, get experience, and gain insight into running a business."
In just three years, Bubbakoo's Burritos expanded to three Jersey Shore locations–Point Pleasant, Manasquan and Brick–and celebrated the opening of a fourth location in Toms River in May. Altero is looking at a possible fifth location this fall and also is testing a concept called Otis' Milkshakes, Smoothies & Sundaes.
Article by Kathryn Marrone Meier, AS '04, BE '06M