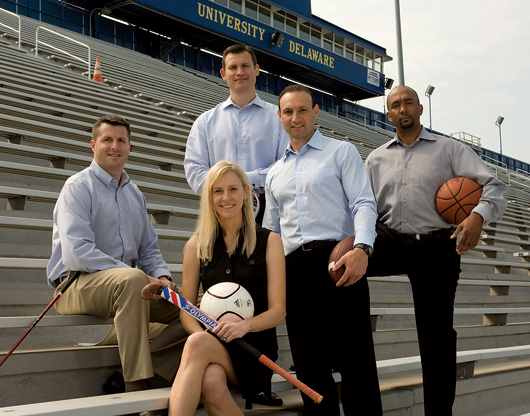 Photo by Kathy F. Atkinson
Teamwork gives help to former athletes
ALUMNI | Former quarterback and UD Hall of Fame member Bill Vergantino, BE '92, may not line up under center any more, but his desire to remain connected to fellow alumni and help others has brought him to the leadership of a new kind of athletic team.
Through the Blue Hen Sports Alumni Family Fund (BHSAFF), he helps other former athletes tackle challenges of a different sort.
"The core objective of the Blue Hen Sports Alumni Family Fund is to provide emotional and financial support to sports alumni families experiencing extended periods of hardship," Vergantino says.
"We will continue to provide opportunities for all UD sports teams' alumni to stay connected over time through periodic social-fundraising events. Most importantly, however, by staying connected, we enable ourselves to identify UD sports alumni families that need our support and rally around them, like Blue Hens teammates."
The idea of establishing the BHSAFF grew organically, he says, the result of many conversations with sports alumni. The final decision to establish the organization came late in 2007 after a meeting with Gregg Perry, current UD football coach and husband of former Hens women's basketball coach, Joyce Perry, who passed away last year after a three-year battle with cancer. During that meeting, it was discussed how Joyce and her illness could help generate awareness of an organization that could help many other alumni families for years to come.
The BHSAFF grew from that idea to a formal nonprofit with 501(c)(3) legal status in February 2008, and offers to help came from everywhere, Vergantino says. Those included women's basketball Hall of Famer Colleen (McNamara) Cimador, EH '95, football players Geof Gardner, BE '96, and Jim Nolan, AS '99, and men's basketball player Andre Buck, BE '93, who with Vergantino serve on the organization's board of directors.
Attorney Neil Lapinski, brother of UD football player Matt Lapinski, BE '92, has provided volunteer legal guidance for the fund.
Two months after the organization was formed, the Perry family was selected as its first "Family of Focus," receiving money to help offset the cost of living expenses that occurred due to Joyce Perry's treatment in her fight against cancer. More than 250 sports alumni came out to support the Perrys.
The second "Family of Focus" beneficiary was Bill Cooper, better known to alumni as "Coop," who worked in the UD athletic department for 45 years as equipment manager. In 2010, Cooper broke his leg, which prevented him from working, and he struggled to keep up with his therapy and living expenses. UD sports alumni gathered to help at a fun "March Madness" fundraiser held at Delaware Park.
Families that could use the network's support are nominated by alumni for consideration and selected for help by the board of directors. Next, the group plans ways to raise money or provide other forms of assistance. All board members are volunteers who receive no compensation.
"Observing Blue Hen sports alumni working to help each other in need has been an extremely rewarding experience," Vergantino says. "We'd like to ensure that we can continue to do this for other families each year and are always open for nominees who could use the strength and support of our extended family."
Visit www.bhsaff.com for more information or to nominate a family. The BHSAFF can also be found on Facebook by searching "Blue Hen Sports Alumni Family Fund."
Article by Mark Urick