Basketball team takes its best shot at title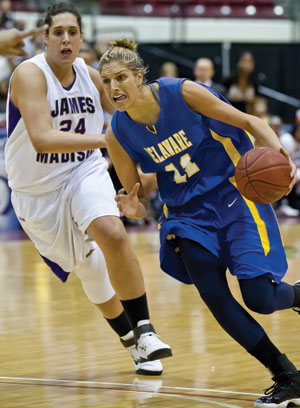 Photo by Mark Campbell
SPORTS | Following a spirited run to the Colonial Athletic Association (CAA) championship game and a berth in the Women's National Invitation Tournament (WNIT), the women's basketball season came to a heartbreaking close on March 16.
A trio of three-pointers over the final three minutes helped host University of Toledo overcome a late eight-point deficit and move on to a 58-55 victory over Delaware in the first round of the WNIT. The Hens had been attempting to post their first victory in the tournament in their six appearances since 2002.
"We just had too many open shots that we missed," says Delaware head coach Tina Martin, who guided her squad to its ninth 20-win season (20-14) since she took over the program in 1996. "With about three minutes left, we had some really good looks but didn't put the ball in the basket, and you have to be able to put the ball in the basket."
Delaware's offense was led by sophomore first team All-CAA selection and All-American Elena Delle Donne, who dropped in 31 points on 10-of-24 shooting from the field. She also converted all nine of her free throw attempts as she surpassed the 30-point mark for the eighth time of the season.
The Hens were selected for the WNIT after coming up just short in the CAA championship game on March 13, when they fell 67-61 to James Madison. Delaware, which was trying to win its first CAA championship and become the first No. 7 seed ever to capture the title, advanced to the championship game thanks to a first-round win over Northeastern and upset victories over No. 2 Old Dominion in the quarterfinals and No. 3 UNC Wilmington in the semifinals.
The future is bright for Delaware, which returns all five of its starters—Delle Donne, Danielle Parker, Jocelyn Bailey, Vanessa Kabongo and Lauren Carra—next season.
Visit www.bluehens.com for all your UD athletics news.