Hens advance to championship game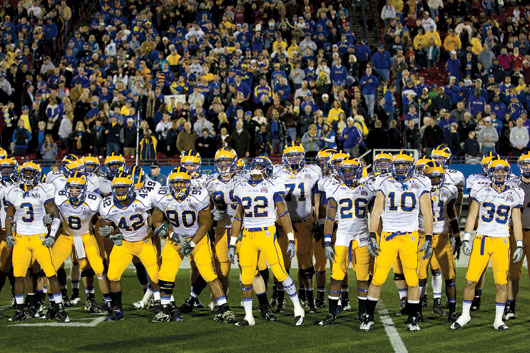 Photos by Mark Campbell
SPORTS | The 2010 Blue Hen football season was a great one for the team and an exciting one for the fans, but in the end, another national championship was just not in the cards.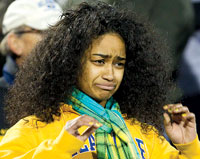 After finishing the regular season with a 9-2 record and advancing through three playoff rounds to the NCAA Division I Championship game in Frisco, Texas, Jan. 7, Delaware lost by a point to Eastern Washington University.
The No. 5-ranked Blue Hens, who were looking to capture the seventh national championship in school history, held a 19-0 lead until late in the third quarter. However, a torrid comeback by Eastern Washington—one that included three touchdown passes over the final 17 minutes—resulted in a 20-19 setback.
"We obviously lost to a pretty good football team," said Delaware head coach K.C. Keeler, who was looking to guide the Hens to their first NCAA championship since 2003. "I don't think I've ever been associated with a loss like this. We pretty much dominated the first half, but our concern was not having enough points on the board."
The top-ranked Eagles (13-2), who captured their first-ever national championship in football with a school-record 11th straight victory, converted a disputed fourth down play deep inside Delaware territory and scored what proved to be the game-winner with 2:47 left. It happened when Bo Levi Mitchell hooked up with Brandon Kaufman for an 11-yard touchdown to tie the game, and Mike Jarrett's extra point put Eastern Washington ahead.
"To lose by one point in the national championship game is pretty tough," said Delaware sixth-year senior linebacker Matt Marcorelle.
Tough indeed.
The Blue Hens, who had a three-game win streak snapped, had jumped out to a 19-0 lead on a short touchdown run by freshman Andrew Pierce and two field goals by Mike Perry in the first half and on a one-yard dive by David Hayes with 7:12 left in the third stanza. But the Hens just couldn't put any more points on the board.
"It's all somewhat overwhelming right now," said Eastern Washington head coach Beau Baldwin immediately after the game. He called UD "an incredibly talented team."
The loss ended a great run by the Blue Hens, whose senior leadership helped Delaware bounce back from a 6-5 record a year ago by sharing the Colonial Athletic Association title and advancing to the title game with decisive NCAA victories over Lehigh, New Hampshire and Georgia Southern.
Quarterback Pat Devlin, the CAA Offensive Player of the Year and an All-American for the season, ended a stellar two-year career for the Blue Hens after transferring from Penn State "to win championships." A surefire NFL draft prospect, Devlin came up just short in the championship game despite completing 22 of 34 passes for 220 yards for his ninth 200-yard passing effort of the season. Pierce, the CAA Rookie of the Year and the nation's leading freshman rusher, finished his first collegiate season by running for 142 yards.
Delaware's final season tally of 12 wins was its highest since the 2003 championship season.
Vice President Joe Biden and his wife, Jill, both UD alumni, attended the game, as did Delaware Gov. Jack Markell, U.S. Sen. Chris Coons and several members of the Hens' 2003 national title squad, including quarterback Andy Hall, defensive back Mike Adams (currently with the Cleveland Browns) and linebackers Mondoe Davis and Ryan McDermond. Also attending the game were alumni Ben Patrick, currently a tight end with the Arizona Cardinals, and Kevin Mench, who played baseball last season with the Washington Nationals.
Article by Scott Selheimer
Visit www.bluehens.com for all your UD athletics news.