Rising sea levels threaten birds in salt marshes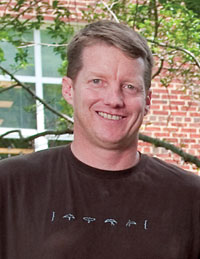 RESEARCH | Greg Shriver, assistant professor of entomology and wildlife ecology, has received a $300,000 collaborative grant from the U.S. Fish and Wildlife Service to conduct research on salt marsh birds from Maine to Virginia as part of the Saltmarsh Habitat and Avian Research Project (SHARP).
The project's short-term goal is to provide the information necessary for all states in the bird conservation region stretching from New England through the Mid-Atlantic coast to protect regionally important habitats for tidal marsh birds. Of particular interest is the salt marsh sparrow, which is listed as "vulnerable" by the International Union for Conservation of Nature and has a limited breeding range from Virginia to Maine.
Because the sparrow spends its entire life in salt marsh habitats, Shriver says, "The species is extremely vulnerable to extinction over the next 50-100 years, given even modest estimates of sea-level rise during the same time period."
SHARP's long-term goal is to provide a regionally consistent platform for tidal marsh bird monitoring in the face of anticipated sea-level rise and upland/watershed development. This will allow states and conservation organizations to use the information to help "prioritize where to conserve potential salt marsh habitat as it transgresses inland," according to the project's plan.
Specifically, the project aims to produce population estimates for all bird species found in the high tidal marsh, including a global population estimate for salt marsh sparrow, and identify regional population centers.
Shriver worked with Tom Hodgman, a biologist from the Maine Department of Inland Fisheries and Wildlife, on a survey of salt marsh birds along the New England coast 10 years ago as part of his doctoral research, and SHARP will now revisit some of those sites to estimate changes in bird populations over time.