Robotic device finds underwater explosives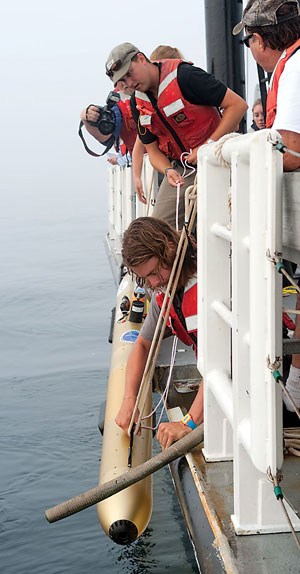 Photo by Evan Krape
RESEARCH | The University and its partners Weston Solutions Inc. and Geometrics Inc. have received a $1 million grant to develop and demonstrate an innovative system for detecting underwater munitions and explosives.
Funded by the Department of Defense Environmental Security Technology Certification Program, the project will integrate UD's autonomous underwater vehicle (AUV) with instrumentation expected to facilitate munitions detection.
"This project brings the age of robotics into unexploded munitions detection to reduce the threats to humans and to make detection more efficient," says Art Trembanis, assistant professor of geological sciences. Trembanis operates the University's AUV, a torpedo-like device that swims untethered through the water collecting data.
The AUV will be outfitted with a total field magnetometer, which locates iron-containing objects such as bombs, shells and rockets. Such objects were used or discarded in coastal and ocean waters, swamps, rivers and lakes around the world during military combat, training and weapons testing activities.
Today those unexploded munitions, which may still detonate despite their age, pose a physical threat to everyone from contractors clearing underwater routes for telecommunications to dredge operators and fishermen bringing in their nets. The materials also threaten the environment as they deteriorate and leach toxic chemicals.
The novel AUV magnetometer system has broad application beyond the detection of unexploded munitions, as it can be used to locate other objects of interest such as oil and gas pipelines and archaeological artifacts. Integrating the Geometrics magnetometer with the AUV is expected to provide cost savings over current approaches by requiring less manpower for operation and reducing or eliminating the need for support from a large ship.
Weston, a specialist in the munitions industry, is the project's principal investigator.