National recognition for promising scientists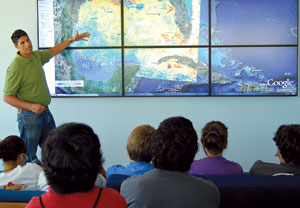 Photo by Lisa Tossey
RESEARCH | Two assistant professors, Matthew Oliver in oceanography and Maciek R. Antoniewicz in chemical engineering, have received major national research awards that were established to recognize the outstanding work of young faculty members.
Oliver received a Presidential Early Career Award for Scientists and Engineers, the highest honor bestowed by the U.S. government on young professionals in the early stages of their independent research careers.
Established by President Bill Clinton in 1996, the awards are coordinated by the Office of Science and Technology Policy. In announcing the newest recipients in November, President Barack Obama said he was "confident that these individuals, who have shown such tremendous promise so early in their careers, will go on to make breakthroughs and discoveries that will continue to move our nation forward in the years ahead."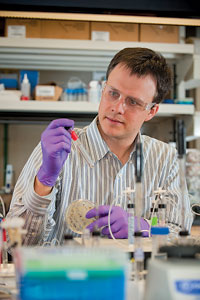 Photo by Evan Krape
Awardees are selected on the basis of two criteria: pursuit of innovative research at the frontiers of science and technology and a commitment to community service as demonstrated through scientific leadership, public education or community outreach. Winning scientists and engineers receive up to a five-year research grant to further their study in support of critical government missions.
A member of the School of Marine Science and Policy at UD, Oliver will receive his grant from NASA, one of 10 federal departments and agencies that join to nominate the young researchers for the awards. His research focuses on the global biogeography of the oceans—where organisms live, at what abundance and under which environmental conditions. To do that, Oliver analyzes biological and physical signatures that appear in satellite data streams.
"Understanding the spatial and temporal distribution of ocean ecosystems with satellites has allowed us to make predictions about a wide variety of ocean processes, including the vertical structure of the ocean, the expansion of ocean deserts and the abundances of key commercial fisheries," Oliver says. "These results are directly applicable to marine resource management and marine spatial planning."
Antoniewicz, who is DuPont Young Professor in the Department of Chemical Engineering, was awarded a National Science Foundation (NSF) Faculty Early Career Development Award to study the role of metabolism in cellular behavior.
The highly competitive award will support his research and education program at UD on metabolic engineering and systems biology.
"I am honored to receive this award. It is very gratifying to be selected for this honor by my peers," Antoniewicz says. According to NSF, less than 20 percent of those submitted each year are selected for funding.
The Faculty Early Career Development program recognizes junior faculty for their role as teacher-scholars and for integrating education and research within the context of their organization's mission. Proposals are reviewed by colleagues in the field, and the highly competitive award is bestowed on those scientists and engineers deemed most likely to become the academic leaders of the 21st century.
"My long-term research goal is to improve our understanding of cellular regulation to permit purposeful manipulation of metabolic pathways and cell phenotypes," Antoniewicz says. "By developing a better understanding of how cells communicate with each other and how they respond to their environment, we hope to produce cheaper biofuels and develop improved drugs for treating diseases like diabetes and cancer."
Current knowledge of the role metabolism plays in cell behavior is limited, due to difficulties in measuring metabolic fluxes precisely and accurately, he says. Metabolic fluxes are key parameters that describe the overall cellular physiology. In the past decade, metabolic flux analysis has become an important tool in metabolic engineering, biotechnology and systems biology.