Nobel laureate to be honored on campus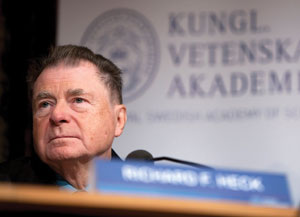 Photo by Markus Marcetic and courtesy the Royal Swedish Academy of Science
RESEARCH | The University will pay tribute to 2010 Nobel Laureate Richard F. Heck, who is Willis F. Harrington Professor Emeritus of Chemistry and Biochemistry at UD, in May with an honorary degree and a daylong symposium on his work.
Heck was awarded his Nobel Prize in chemistry on Dec. 10 in Stockholm, as proud friends and colleagues looked on from the UD campus via webcast. He received the prize—with fellow researchers Akira Suzuki of Hokkaido University in Sapporo, Japan, and Ei-Ichi Negishi of Purdue University—for research on "palladium-catalyzed cross couplings in organic synthesis."
According to the Nobel statement, the honorees discovered "more efficient ways of linking carbon atoms together to build the complex molecules that are improving our everyday lives." The laureates were presented their Nobel Prizes by King Carl XVI Gustaf of Sweden during a stately ceremony.
On May 26, the University will host "Frontiers in Catalysis" at Clayton Hall Conference Center on the Newark campus, an event featuring nationally prominent speakers, including Negishi, who will deliver the 2011 Heck Lecture.
Two days later, during Commencement ceremonies on May 28, Heck will be one of four prominent guests to receive honorary degrees. The University Board of Trustees voted at a December meeting to confer the degrees.
About Heck's research
Heck worked for Hercules in Wilmington, Del., from 1957 until 1971, when he joined the UD faculty until his retirement in 1989.
In his research, he focused on palladium, a "transitional metal" located in the central part of the periodic table of elements, and discovered how to use it to allow a reaction between two carbon-containing molecules that previously could not have occurred.
Mary Watson, assistant professor of chemistry and biochemistry at UD, spoke at a recent Nobel symposium, sponsored each year by the College of Arts and Sciences, about Heck's work, which she uses in her own research.
"The Heck Reaction changed the way molecules are made and changed what molecules can be made," Watson said, adding that beginning around 1993, numerous other researchers began making widespread use of the discovery, which they called the Heck Reaction. "There are molecules we couldn't have made without this reaction."
The results of Heck's groundbreaking discovery, she said, have had "broad implications and broad applications" in fields including human health and medicine, energy and the environment. Examples of products that are manufactured using the reaction are certain anti-inflammatory pain relievers such as Aleve, the asthma treatment Singulair and key components of sunscreen and some herbicides, Watson said.
Douglas Taber, professor of chemistry and biochemistry who has known Heck as a colleague since 1982, notes that, "All of pharmaceutical chemistry and photolithography, the making of computer chips, depends on carbon bond formation.
"His [Heck's] contribution was to make that bond catalytic in the expensive metal, making large-scale industrial production affordable. When DNA sequencing became important, Heck chemistry made the coupling of organic dyes to the DNA bases possible."
About 'Frontiers in Catalysis'
The symposium on May 26, from 8:30 a.m. to 6 p.m., will feature talks by leading experts in the field of catalysis. Scientists, engineers, graduate and undergraduate students and members of the media who cover science and technology are expected to attend. There is no fee for the event, but registration closes May 12. For more information or to register, visit www.udel.edu/nobelsymposium.