Certificate program expands access to campus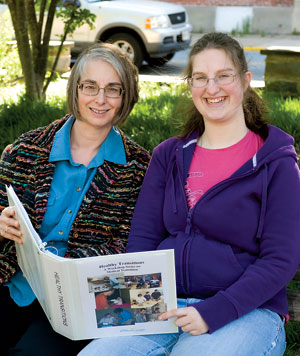 Photo by Kathy F. Atkinson
RESEARCH | Andrew Netta has always had pretty big goals for his future, and taking college classes was one of them. But, as a 19-year-old with an intellectual disability (ID), his educational opportunities in Delaware seemed to have ended when he finished high school.
That's now changed. Because of a $2.3 million grant from the U.S. Department of Education, the University will offer a program that can help people like Netta fulfill their dreams.
"For the first time ever, I can now go to class, I can go to work, I can love what I'm doing, and I can really feel a part of this campus," he says. "This is so exciting!"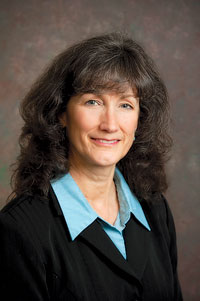 The Center for Disabilities Studies and the Division of Professional and Continuing Studies are providing students with intellectual disabilities the opportunity to enroll in a two-year Career and Life Studies Certificate (CLSC) program. The certificate is designed to provide a meaningful credential to students and help them move on to gainful employment.
Beginning in the fall, 15 students with ID will be able to take classes, work and participate in social activities on UD's Newark campus.
"The idea is to mirror the options available to other people in our community without disabilities," says Laura Eisenman, associate professor of education, who's overseeing the project. "There will be ways, such as peer mentoring, for other UD students to get involved. And we'll be conducting research to assess different aspects of the program."
The CLSC program was created as an extension of the Community-Based Education Alliance transition program, which partners with local Delaware schools to support young adults ages 18-21 who have disabilities. Under this program, students with ID were allowed to work on campus, and some occasionally attended classes. The new certificate program will allow them to be truly integrated with the University.
The inclusion element of the program is what interests Cathy Cowin. Her 19-year-old daughter, Alyssa, has an ID.
"We are intrigued that this would give her more of the college experience," Cathy Cowin says. "She will also gain more independent living skills and skills that would make her more employable. Plus, getting the certificate upon completion is a great component."
Alyssa, who may apply for the program, says it would help her discover more about herself in a fun way. "I'd learn about other things I may want to do as a job, and I'd meet other students who could become great friends," she says.
UD is one of 27 schools across the country to receive a five-year grant to expand postsecondary opportunities for young adults with ID. The certificate program is designed with core modules, which will be geared toward the students' special needs, while more than 51 percent of the students' time will be integrated with the existing school population.
The classes focus on developing work skills or life skills. After finishing the program, students are expected to have enough training to either obtain a job or pursue more educational opportunities.
Netta, who works for the Center for Disabilities Studies and has a strong interest in theatre, says he hopes to inspire other students with disabilities to pursue their dreams as well.
"Just because you have a disability or have a disorder, you should never let that hold you back from what you want to do in life," he says. "I'm going to do whatever it takes to get this certificate. There's no doubt it'll open more doors for me in the future."
Article by Alison Burris, BE '85, and Cassandra Kramer