Community program gets participants moving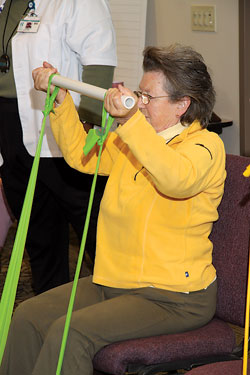 Photo by Mike Baker
RESEARCH | An exercise program developed specifically to meet the functional needs of a group of stroke survivors and those living with Parkinson's disease (PD) has been offered at Beebe Medical Center in Lewes, Del., led by Ingrid Pretzer-Aboff, assistant professor of nursing at UD.
The participants enrolled in the class not only to improve their own physical capabilities but also to provide valuable data to a team of researchers and rehabilitation experts at the University and the hospital.
The study is aimed at determining whether a community-based exercise program tailored to the needs of stroke survivors and individuals with PD can lead to improvements in activity and function across the spectrum of disability.
"Lack of activity is a major risk factor for morbidity and mortality, and we've found that fitness centers are generally not equipped to deal with persons with Parkinson's or stroke," Pretzer-Aboff says. "If successful, our model will offer a cost-effective program for these individuals with unique needs."
Researchers from both UD and Beebe developed the program, with the University team leading the research components and Beebe implementing the exercise program. Both institutions will complete the evaluation procedures.
The initial study looked at 15 people with stroke and 15 with PD. They were evaluated at Beebe before the training program and again after 12 weeks. If the pilot project is successful, the team plans to apply for additional funding to continue development, testing and implementation of the exercise program on a larger scale.
"Our long-term goal is to develop materials that will enable others to implement similar programs throughout the state and the Delmarva Peninsula," Pretzer-Aboff says. "There is a tremendous need for resources like this in the region."