'Listen to your heart,' new graduates are told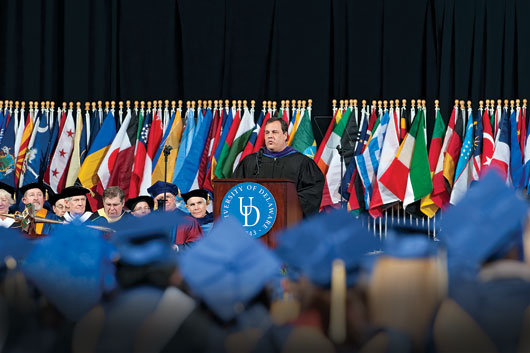 Photo by Evan Krape
ON THE GREEN | New Jersey Gov. Chris Christie, himself a UD alumnus, told the University's newest graduates to keep their hearts and minds attuned to the many opportunities that life may offer them after graduation.
Christie, AS '84, made his remarks at Winter Commencement on Jan. 9, as he congratulated the audience of more than 4,000 guests, including the graduates, their families and friends, faculty, administrators and members of the UD Board of Trustees. Earlier in the ceremony, he was awarded an honorary doctor of laws degree by the board's chairman, A. Gilchrist Sparks III.
Christie told the newest Blue Hen alumni that while some career and life paths seem to be marked by an identifiable beginning, middle and end, many of the most rewarding experiences are found in the least likely places or circumstances.
"To get here, you have had to adhere to a certain set of rules, and now, you get to make your own rules, and I suspect you feel that way right now," he said. "But feeling like you are free and really being free are two different things."
While the education represented by a UD degree opens doors, the key to a lifelong learning experience is to also remain open to paths that lie outside one's chosen academic discipline or training, the governor said.
"Your education may be a part of everything you do, but then again, it may not. Graduating from UD is a significant accomplishment, but it is one accomplishment, in one direction," Christie said. "To be free is to know that at any time in life, you can choose any direction and any new goal."
Many opportunities and challenges arrive unannounced and unplanned, he said, and it takes courage to see these challenges and be willing to walk through these new and mysterious doors.
"No one is going to pull you along, not really, not in your adult life," Christie said. "When you make big changes, you are going to be the one who makes the call, just you. And when you have a comfortable life and a routine, it is going to take a lot of courage to listen to your heart."
University President Patrick Harker also addressed the audience, encouraging the graduates to apply the concept of product branding to the personal and professional lives they will build.
"You've heard of product branding, creating an identity for a product, and by extension, an identity for the people who use it," Harker said. "But what about a personal brand? How do you build a personal brand that conveys your defining qualities and those essential things you stand for?"
He suggested that a personal branding concept include finding and framing a mission, creating networks to achieve goals and building portfolios that reflect an individual's full capacity and effort.
"Do you want to achieve on a scale that redefines what we believe and what we believe is possible?" Harker asked. "2010 Nobel Prize-winner Richard Heck, a UD professor for decades, absolutely remade the field of organic chemistry, and he taught and worked in the same buildings where many of you took classes. Your mission can be this brand of truly extraordinary achievement. Why not?"
Article by Jerry Rhodes, AS '04