Newest Rhodes Scholar eyes future in health policy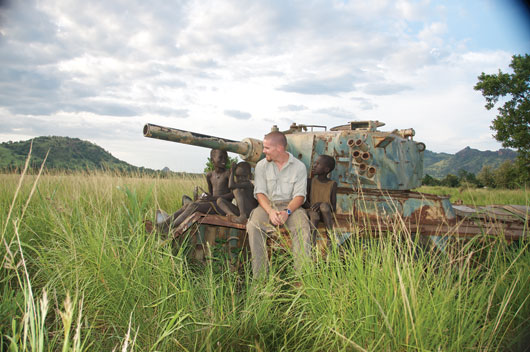 ON THE GREEN | Matthew T. Watters, a senior neuroscience major and political science minor, has been named a 2010 Rhodes Scholar, one of 32 Americans selected for the honor.
Rhodes Scholarships provide all expenses for two or three years of study at the University of Oxford in England. Elliot F. Gerson, American secretary of the Rhodes Trust, called the scholarships "the oldest and best-known award for international study, and arguably the most famous academic award available to American college graduates."
Watters, who has worked in Sudan and Haiti, is the University's 12th Rhodes Scholar.
"The Rhodes Scholarship is the standard-bearer for academic excellence, and we couldn't be prouder or more excited that it's gone to one of our own," UD President Patrick Harker says. "Matthew Watters is a great example of the talent that's defining UD—talent that will attract more of the same."
Watters says he was surprised to learn he had been selected. "All 12 candidates were brought into the room where the judges had deliberated, and then they announced the winners," he says. "I was shocked. I actually thought I had misheard them. As the truth sank in, I felt filled with gratitude … for all those who helped me get there. This amazing dream is only reality because of them."
Watters has conducted research in the neuroscience laboratory of Jeffrey B. Rosen, professor of psychology at UD, and he recognized Rosen, as well as John Koh, professor of chemistry and biochemistry, Barret Michalec, assistant professor of sociology, and Krystyna Musik, instructor in foreign languages and literatures, for their assistance in his academic career.
UD, he says, provides "so many opportunities to grow, academically and personally," adding, "It is the perfect mix of big university options and opportunities with a small college feel and community."
Watters will begin his studies at Oxford in October and plans to work toward a master of science degree in global health science. Following Oxford, he plans to attend medical school and pursue a career in health policy.
He has worked in two hospitals in south Sudan, training staff in the prevention of infection, and in two hospitals in Haiti. He was a 2010 Plastino Scholar at UD, a program through which he traveled to Sudan to work with Merlin, an organization specializing in rebuilding health services in an area while providing health care during times of crisis. His work was to evaluate systems of infection prevention at two hospitals and provide training for staff. A UD Institute for Global Studies grant supported an extended stay in the African nation.
As a 2010 St. Boniface Champion, Watters volunteered emergency medical technician services in Haiti. Upon his return, he founded Students for Haiti, which following the earthquake raised $50,000 to help rebuild a hospital destroyed in the town of Villa.
He notes that his personal motto and that of Students for Haiti is "kembe fem," which is Creole for "stand strong."
"Matt has a great sense of humor and was fun to work with. Although he is very down to earth and unpretentious, when it comes to helping others, he has a focused intensity and confidence that he can accomplish what he sets out to do," says Katharine C. Kerrane, senior associate director of the University Honors Program, who works with Rhodes candidates.
"Matt is extremely impressive, and I know he'll do great work in the world and make us all proud."