Award-winning historian explores sound and music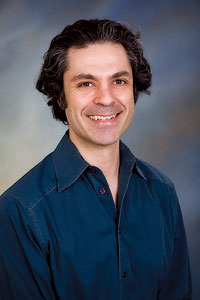 ON THE GREEN | David Suisman, associate professor of history, has been selected by the University's Francis Alison Society to receive its 2010 Gerard J. Mangone Young Scholars Award.
The award, named in honor of a distinguished professor in the College of Earth, Ocean, and Environment, recognizes promising and accomplished faculty. The recipient is chosen by fellow faculty members who have received the Francis Alison Award, UD's highest faculty honor.
Speaking on behalf of the Francis Alison Society, Donald L. Sparks, S. Hallock du Pont Chair in Soil and Environmental Chemistry and director of the Delaware Environmental Institute, said Suisman "has compiled a remarkable record in scholarship and in teaching and mentoring students. His seminal book, Selling Sounds: The Commercial Revolution in American Music, published by Harvard University Press, has received numerous accolades, including the prestigious Hagley Prize as the best book in business history in 2009."
Suisman also co-edited Sound in the Age of Mechanical Reproduction, published in 2010 by the University of Pennsylvania Press, with colleague Susan Strasser, Richards Chair of American History at UD.
A member of the UD faculty since 2004, Suisman is currently working on The Soundscape of the State, which analyzes instances where the state and sound have intersected in meaningful historical ways, such as wiretapping and audio surveillance, as well as political battles over sonic booms from aircraft and the various uses of sound by the military.
"When I began researching music and sound, many historians, and a few other scholars, didn't know what to make of my work, because it didn't fit easily within conventional disciplinary boundaries," Suisman says. "It is gratifying now to see that work reaching across disciplines and speaking to a wide range of scholars."