Spirited competition leads to championships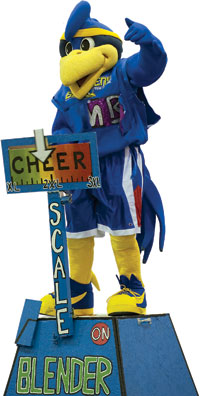 Photo by Evan Krape
ON THE GREEN | Two spirit teams—the YoUDee mascot team and the dance team—won national championships at the Universal Cheerleaders Association (UCA) College Cheerleading and Dance National Championships in January.
The UD cheerleaders also had an outstanding competition, finishing second in an energetic battle against Morehead State University of Kentucky.
For YoUDee, a member of the Mascot Hall of Fame, it was the third national championship in the last 10 years. Numerous YoUDee alumni have gone on to work as professional mascots, some of whom returned to campus on Feb. 3 for a Blue Hens women's basketball game. They included Swoop of the NFL's Philadelphia Eagles, Slapshot of the NHL's Washington Capitals, Screech of Major League Baseball's Washington Nationals, Poe of the NFL's Baltimore Ravens and minor league baseball's Wool E. of the Durham Bulls and Rocky Bluewinkle of the Wilmington (Del.) Blue Rocks.
At the national competition, held at Disney World in Orlando, Fla., the UD dance team won the UCA Division I hip hop competition for the third straight year, and for the fourth year in the category's eight years of existence. The dance team also finished 10th out of 23 teams in the jazz category.
Cheerleading coach Ben Schreiber says the squad finished second in a hard-fought battle with perennial power Morehead State. "It was a very close competition," he says, "with both of the top two teams executing nearly flawless routines."