Laboratory scientist named state's top professor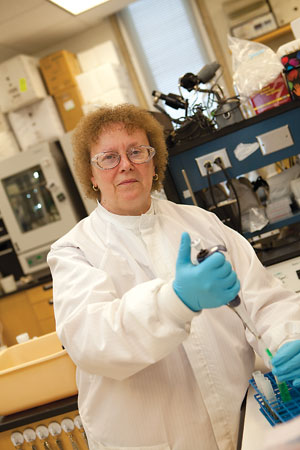 Photo by Ambre Alexander
ON THE GREEN | Mary Ann McLane believes that education is all about empowerment. She teaches by sharing her extensive experience, and she provides her students with passion for the medical technology profession and for lifelong learning. She encourages and challenges the young adults in her classroom and mentors them in her research laboratory.
McLane's dedication was recently recognized by the Carnegie Foundation for the Advancement of Teaching, which selected her as the 2010 Delaware Professor of the Year. She was one of more than 300 nominees across the United States.
"I am thrilled for my department, our college [College of Health Sciences], the University, our state and my profession to win this award," says McLane, professor of medical technology. "As president of the American Society for Clinical Laboratory Science [ASCLS] in 2009-2010, I worked to 'put a face' on this profession as a critical component of modern health care. My role as a teacher is an important part of that mission—I want to make this discipline more visible and inspire students to follow careers in clinical laboratory science."
Many of the students who have worked in McLane's research lab have gone on to complete graduate studies in biochemistry, molecular biology, optometry, physician assistant programs and medicine.
McLane provides real-life examples in her lectures and labs to show students the relevance of theory and the transferability of skills, and she offers them real-world experiences outside general course content. For instance, every year, she takes her clinical chemistry honors students to the two-day ASCLS Legislative Symposium in Washington, D.C., where they meet legislative aides, share the laboratory community's concerns and prepare a summary for publication by ASCLS.
McLane has also been an active mentor at all levels from high school students through undergraduates and graduates to junior faculty. Earlier this year, she supervised a high school science fair project on the role of antioxidants in inhibiting the growth of cancer cells. She also hosted a biotechnology major from Delaware Technical and Community College in her research lab as part of the National Institutes of Health Bridges to the Baccalaureate Degree Program.
But McLane's teaching impact has gone far beyond her own classroom and lab, as she has published teaching materials used nationally and received requests for her teaching expertise from around the world.
"We're very proud to have one of our professors win this award," says Kathleen Matt, dean of the College of Health Sciences. "Mary Ann is a terrific teacher, lab professional and researcher who shares all of her expertise with her students, preparing them for a broad range of career paths."
McLane, who has taught at UD since 1996, holds a master's degree in medical technology education and a doctorate in physiology, both from Temple University. She recently received the 2010 Distinguished Alumni Award from her undergraduate alma mater, Neumann University. Her specialty is clinical chemistry, and her research focuses on melanoma metastasis.
About the award
The Council for Advancement and Support of Education (CASE) is the largest international association of educational institutions, serving nearly 3,400 universities, colleges, schools and related organizations in 59 countries.
The Carnegie Foundation for the Advancement of Teaching, founded in 1905 by Andrew Carnegie, is the only advanced-study center for teachers in the world and the third-oldest foundation in the nation. Its nonprofit research activities are conducted by a small group of distinguished scholars.
CASE and the Carnegie Foundation have been partners in offering the U.S. Professors of the Year awards program since 1981.
Article by Diane Kukich, AS '73, '84M