Better content for better classroom teaching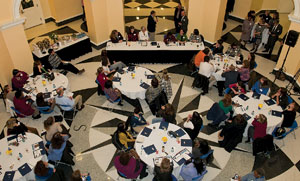 Photo by Doug Baker
ON THE GREEN | A first-grade special education teacher interested in media literacy and a high school culinary arts teacher with plans to incorporate lessons from astronomy into her classroom are among the Delaware educators interested in a new professional development program.
They were two of more than 120 teachers who came to UD in January to attend an open house for the Delaware Teachers Institute in New Castle County, which will welcome its inaugural cohort of teachers in May. The institute, approved by Yale University in November and modeled after the renowned Yale National Initiative to Strengthen Teaching in Public Schools, partners a dozen K-12 educators (known as fellows) with a professor in a semester-long seminar that is designed to be more like a "professional conversation" than a college course.
Educators who have participated in the seminars at Yale, including many from Delaware, say the nationally respected professional-development program has transformed their teaching and energized their students, according to Raymond Theilacker, a four-time Yale Institute fellow who is the founding director of the new Delaware institute. The program will be offered for the first time in the state through a partnership between UD and five public school districts.
"This is very high-quality professional development, and teachers love it," Theilacker says. "Every year, we survey teachers who participated in a Yale institute, and every year they are extremely positive about the experience. But they also express an interest in having this opportunity closer to home."
The institutes are unusual, he says, because they focus on expanding the teachers' content knowledge in a subject such as science, math or English, while most professional development programs concentrate on teaching methods and classroom techniques. The institute aims to build content knowledge and improve teaching methods for those working in underserved schools.
Through the institute's collaboration with a university, professors present their expertise in their respective content areas and fellows create an instructional unit guide that will be disseminated online for other teachers to replicate in their classrooms.
"Professional development opportunities come and go, but rarely do we find anything like this that really resonates in the heart of teachers," says Delaware state Secretary of Education Lillian M. Lowery. "We are so excited that the brightest teachers will have the opportunity to work with the best minds in higher education."
The four inaugural seminars and their UD leaders are "Islamic Thought and Culture," Alan Fox, professor of philosophy; "Reasoning and Sense-Making through Geometry," Cristina Bacuta, assistant professor of mathematical sciences; "Media Literacy," Thomas Leitch, professor of English; and "Astronomy: The Role of Gravity and Life in the Universe," Harry Shipman, Annie Jump Cannon Professor of Physics and Astronomy.
The faculty members all expressed hope that their seminars will include an interdisciplinary mix of participants who can apply the content they learn in the diverse range of classes they teach. "Geometry is not my area of research," explains Bacuta, a calculus professor. "I do it for fun and hope my fellows will say the same after the program ends."
The Delaware Institute is unique, Theilacker said, because it is a partnership with several districts, while the other institutes around the U.S. involve a university working with a single large, urban school district. James R. Vivian, director of the Yale Initiative, called Delaware's multi-district partnership "a pioneering model."
Article by Artika Rangan, AS '05