New center focuses on cardiovascular disease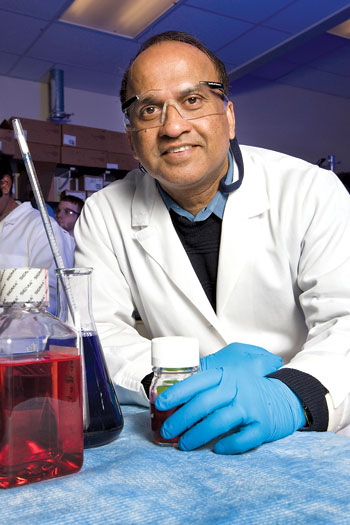 Photo by Ambre Alexander
ON THE GREEN | More than one-third of all deaths in the U.S. are attributed to cardiovascular disease, and Americans spend close to $300 billion annually for cardiovascular-related health care.
In light of such alarming statistics, the prevention and treatment of cardiovascular disease are the focus of a new research center at UD.
The Delaware Cardiovascular Research Center (DCRC) was inaugurated in November at the Delaware Biotechnology Institute, where it will initially be housed. Ulhas Naik, professor of biological sciences, is the center's director.
Speaking at the launch, University President Patrick Harker referred to the center as a critical component of the collaborative Delaware Health Sciences Alliance (DHSA).
"Since we announced the alliance's formation in March 2009, we've seen the enormous power of collaboration," Harker said. "With our four partner institutions working together, our scope, our strength and our impact aren't merely amplified by a factor of four—our work is exponentially greater. Together, we have the capacity for breakthrough biomedical research and biotech development, high-quality health sciences education and good health-care policy and delivery."
Kathleen Matt, dean of the College of Health Sciences and executive director of DHSA, spoke of the importance of translational research. "We have to do more than just contribute to research if our work is going to have an impact on patients and their families," she said. "We have to hand-carry it."
The DCRC brings together more than 50 researchers, physicians and educators from DHSA member institutions to focus on ways to prevent and treat cardiac, vascular and blood diseases. These investigators encompass more than 20 specialties, from epidemiology and pharmacology to preventive cardiology and cardiovascular surgery. The center provides a focal point for interdisciplinary research and training as well as state-of-the-art instrumentation and facilities.