Experts gather to discuss corporate governance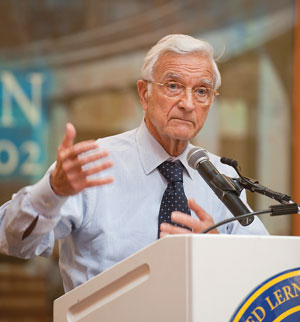 Photo by Evan Krape
ON THE GREEN | Frank Zarb, one of America's most respected corporate leaders, addressed a full house at UD's annual Corporate Governance Conference on the Newark campus in November.
The conference, sponsored by the John L. Weinberg Center for Corporate Governance and the Department of Finance in the Alfred Lerner College of Business and Economics, hosted students, business leaders and academics from across the country to study the effects of the financial crisis, government reforms and the changing landscape in U.S. business.
In welcoming attendees, UD President Patrick Harker said the timing was right for a discussion of corporate governance issues.
"There is an unprecedented focus today on the contemporary boardroom due to substantial changes in new legislation, regulation and expectations," he said. "This is a great opportunity to examine the legal, financial and practical ramifications of our new reality."
Zarb, whose record of corporate accomplishment and government service includes serving as chairman and CEO of Nasdaq and Smith Barney and various roles in the Nixon, Ford, Reagan, Bush and Clinton administrations, spoke about ways in which future leaders can avoid financial or ethical crises.
"It is essential for current and future corporate leadership to maintain a solid, ethical tone at the top and to pay attention to warning signs and red flags," Zarb said. "Always question the status quo, the accepted way of doing things."
New government requirements for public companies, such as the 2010 Dodd-Frank Act, were a focal point of the conference, which featured a panel discussion of influential business leaders.
Panelists included Ken Daly, CEO of the National Association of Corporate Directors; There du Pont, chairman of the Longwood Foundation and board member of DuPont; Harvey Goldschmid, Dwight Professor of Law at Columbia Law School and former Securities and Exchange Commission member; Joann Lublin, management news editor of the Wall Street Journal; Amy Borrus, deputy director of the Council of Institutional Investors; Susan Blount, general counsel for the Prudential Insurance Co.; and Anne Foster, director at the Wilmington law firm Richards, Layton and Finger.
Charles Elson, director of the Weinberg Center and Edgar S. Woolard Jr. Chair of Corporate Governance, and Roger Coffin, associate director of the Weinberg Center, organized the daylong conference.
"The Weinberg Center was designed to bring together leaders from academia, business, law and finance to study, educate and work for thoughtful reform in the area of corporate governance," Elson said of the 10-year-old center. "New governance reforms, while well-intentioned, may have unintended consequences, and care must be taken to make sure investor protection and long term shareholder value are preserved."
According to Elson, real growth and economic value are served when the interests of boards of directors and shareholders are aligned.
A. Gilchrist Sparks, chairman of the University Board of Trustees and of counsel at Morris, Nichols, Arsht and Tunnell, echoed Elson's remarks.
"Delaware corporate law was designed to facilitate corporate transactions and development without costly burden or interference," he said.
The conference also featured sessions in which leading academics from the finance and legal fields presented new papers that centered on issues stemming from the financial crisis and the legislative response and financial reform.
"There are many lessons to be learned from the financial crisis," Coffin said. "Primarily, strong leadership, proper incentives and good governance can point the way toward economic growth and recovery."
Article by Kathryn Ann Marrone , AS '04, BE '06M, and Roger Coffin