Help with the job of finding employment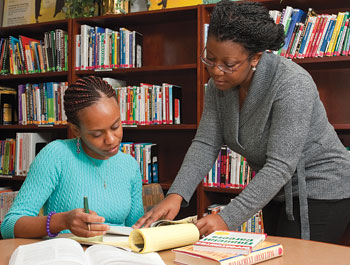 Photo by Kathy F. Atkinson
ON THE GREEN | While the Bank of America Career Services Center has a long history of connecting UD students with internships and job opportunities, several new initiatives are being implemented to help both current students and alumni looking for the next move in their careers.
Matthew Brink, the center's director, says one of the new services that will be available at the start of the 2011-12 academic year is a Career Action Plan.
"This stage-by-stage process should get students thinking about engaging in, and making decisions about, their careers from the start of their undergraduate experience at UD," Brink says. "The process also will be flexible enough to accommodate students who might sign up later in their academic careers."
A major goal of the process, he says, is to ensure that by the time undergraduates become seniors they will have had experiential learning opportunities including participation in student clubs, organizations, community services, volunteerism and doing research with faculty.
"As these students mature, this will give them a body of experiences that will help them make good career choices when they leave UD," Brink says. "At the same time, these students also will be engaged in activities at Career Services that will help them along on their career path."
Plans call for the center to expand its present database of employers who view UD as the first place they might look to recruit for internships, summer jobs and full-time positions. "We conducted an analysis that looked at admission trends within each of UD's colleges and departments," Brink says. "The idea is to match this with employers looking for students with a certain academic program."
Other recent initiatives at the center include: expanding drop-in hours; expanding the number of career counseling appointments, which doubled from fall 2010 to the spring 2011 semester; requiring students to have their resumes reviewed before uploading them to their Blue Hen Jobs account for prospective employers to view; and offering free services for alumni, who can view UD as the place that will help them find their next career position.
Brink says he also hopes that alumni who know of job opportunities in their respective organizations will contact the Career Services Center at recruitbluehens@udel.edu with job information that could be posted at www.udel.edu/csc.employer.html.
One student who has made use of a number of the center's resources and services is Shenel Crawford, a senior accounting and finance student. She says that the resume she developed on her own was about three pages long and "not very effective" until the center helped her streamline it into a single page.
"Career Services helped me to get my resume to required standards [and] has been instrumental in my success at finding a job," says Crawford, who has been offered a position with a financial firm after graduation in May.
"I have also attended career fairs and the Countdown to Job Jamboree, as well as the Multi-Ethnic Career Development Conference [all sponsored by the center]. Last summer, I was able to secure an internship through Blue Hen Recruiting, and this opportunity was pivotal to obtaining full-time employment."
Emily Solomon, AS '10, who majored in international relations with a minor in Latin American studies, calls the Career Services Center "a huge help," especially during her senior year. "It is a great resource to help you learn to become more professional and polished in any career setting," she says.
Article by Jerry Rhodes, AS '04