Follow us … around the world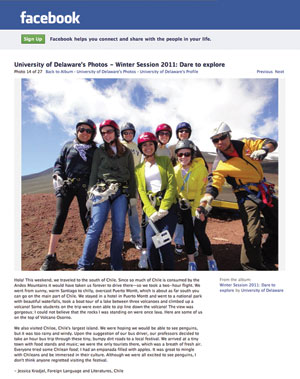 ON THE GREEN | Following the University on Facebook (www.facebook.com/UDelaware) is a great way for alumni to connect with one another and to keep up with news and events on campus, for prospective students to explore UD and for everyone to hear directly from current students about their experiences.
News from UD comes in many forms, including the campus news website UDaily (www.udel.edu/udaily), the online alumni community (www.udconnection.com) and this magazine, in print or online (www.udel.edu/udmessenger). But becoming a follower of the University on Facebook offers another convenient way to stay connected, along with some exclusive features.
One of those exclusives, posted during Winter Session, featured some 25 students taking part in study-abroad programs around the globe, all of whom sent weekly updates to share their adventures in words and photos. At the end of Winter Session, a Facebook album, titled "Winter Session 2011: Dare to explore," was created highlighting all the programs.
UD, which pioneered study abroad in the 1920s, is widely recognized today as a leader in international education. The latest report on student exchange, released by the Institute of International Education, ranked the University third in the nation in student participation in study abroad among public, doctorate-granting research institutions.
During Winter Session 2011, UD offered more than 50 separate programs in which students traveled and studied overseas.