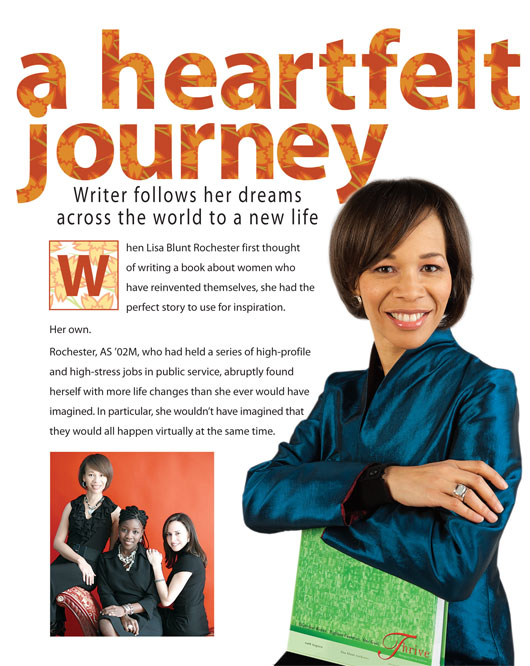 Photo of Lisa Rochester by Kathy F. Atkinson. Photo of co-authors courtesy of Lisa Rochester
"During most of my career, I defined myself by my title and my salary," she says. "Then, I got my kids off to college, I quit my job, I sold my house, I married someone I knew mostly from a long-distance relationship, and I moved to China to be with him. For about six months, I loved just being a tourist in Shanghai, but I woke up one day and thought: What have I done?"
Despite her sudden panic, Rochester says she knew she had not made a mistake in following her heart. She describes her husband, Charles Rochester, EG '84, as her best friend and soul mate, and she says she knew after one in-person date and several months of long-distance communication that they were meant to be together.
Still, she realized that she needed to make more of her new life than to be just an expatriate "trailing spouse" in China.
After all, she had a long list of accomplishments and professional experience. With a master's degree in public policy from UD, Rochester (then Lisa Blunt-Bradley) was the first African-American woman to serve as Delaware's secretary of labor and the first African American to be state personnel director and deputy secretary of health and social services. After leaving state government service, she went on to be CEO of the Wilmington Metropolitan Urban League and to work in the Middle East for the U.S. Agency for International Development and the king of Jordan.
Drawing on those experiences, she started a job search in China, but nothing fell into place until she attended a 10-day meditation retreat in Hong Kong that helped her clarify what she wanted from life.
"I thought about what I had wanted to do when I was young and what I missed most when I was too busy to do it, and the answer was that I wanted to write," she says. "I always liked to write, but I never had a chance to really spend time working at it."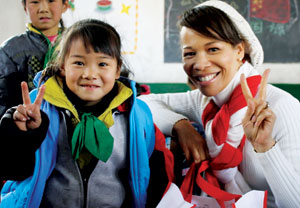 Photo courtesy of Lisa Rochester
Rochester started writing articles for English-language outlets in Shanghai, attending writing classes and workshops, networking with others and, eventually, she says, "starting to think of myself as a writer."
She took the "trailing spouse" label and combined it with her new passion to find two writing partners—one from Mexico and one from Kenya—who also had come to China because of their husbands' jobs there. The three decided to write a book about other women from around the world and what their lives, hopes and dreams were like while living in China.
"We wrote about 34 women from 18 countries—some with advanced degrees, some who never went to college, entrepreneurs, mothers, women with executive jobs, women who chose to stay home—and every one of them was doing something valuable with her life," Rochester says. "That's one of our themes in the book, that everybody needs to find success in her own way. These women's stories show that we can all reinvent ourselves."
Each chapter in the book, titled Thrive, begins with a one-word summary of that woman's personal story: Honesty, Confidence, Trust, Belief, Knowledge, Focus, among others. Each memoir is followed by a question designed to help the reader gain some insights into her own life, for example: Do you invest your time and energy in the things that really matter to you? What qualities do you possess that enable you to adapt to new situations?
Today, Rochester and her co-authors, one of whom also produced Thrive through her own publishing company, are still riding a wave of attention to the book. They give talks to interested groups—"People in China want to know about the women's stories," Rochester says. "When I come back to the U.S. and talk, people mostly want to know what life in China is like."—and were featured in March at the Shanghai Literary Festival.
Since Thrive was published, Rochester has completed a book of poetry and is working on a similar book for young girls that will offer guidance on living "with intention and purpose," she says.
She also does volunteer work in China with a foundation for children, and she and her husband, a Pan-Asian regional executive for a French-owned electrical manufacturing company, travel frequently. Her parents and two college-age children visit when they can, and she says living abroad has made her appreciate the importance of family more than ever.
Sometimes, she says, she thinks back to her former life and is astounded at how much has changed—not just her day-to-day activities but also her way of seeing the world and herself.
"I'm not what I do; I'm who I am," Rochester says. "That was a big lesson for me, and I'm not sure I ever would have learned it if I hadn't made this whole new life for myself. I think I'm proof that it's never too late to follow your dreams."
Article by Ann Manser, AS '73