Biologists map potential threats to health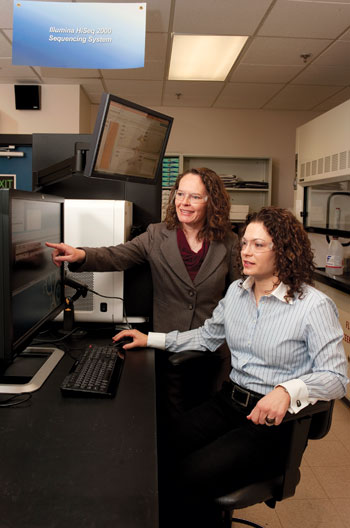 Photo by Kathy F. Atkinson
ALUMNI | As the military works to protect U.S. troops in the field and civilians at home, the enemy is not just bullets and bombs.
Biological threats, both natural and manmade, are a major concern as well, and the military is striving to identify and develop defenses against such hazards.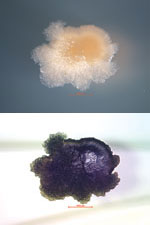 That's where researchers like biologists Stacey Broomall, AS '99, and C. Nicole (White) Rosenzweig, AS '95, play a key role. Both UD alumnae conduct research at the U.S. Army's Edgewood Chemical Biological Center (ECBC) at Aberdeen Proving Ground in Maryland, where their latest project uses genetic sequencing to analyze and map the basic biological makeup of a variety of bacteria and other potentially dangerous organisms.
The project, which began at Aberdeen in fall 2008, is sponsored by the Department of Defense's Defense Threat Reduction Agency, with an ultimate goal of identifying, characterizing and developing new countermeasures for emerging biological threats. One of those threats that's a key focus of the project is the kind of antibiotic-resistant bacterial infection that can prevent a wound from healing.
"We collect samples from all over, obtain the sequencing information and keep it so that future samples can be compared to it, for example when a soldier has wounds that are drug-resistant," says Rosenzweig, who is program manager of the ECBC Genomic Sequencing Center. "We pass our results along to our sponsor and then, through them, to the medical personnel who can use it to determine what measures can be taken to help this person get well as soon as possible."
While the lab's results might eventually be used by the larger scientific community, she says, "It takes a large collaborative effort [involving other Defense Department-sponsored research] to make that happen."
The work being done in the Edgewood lab might also be used to answer questions in case of an outbreak of illness: If troops are becoming ill, what were they exposed to? Is the cause of the outbreak a natural organism? Is it similar or identical to pathogens that have been seen elsewhere, perhaps in particular geographic areas?
"We get a wide variety of samples, from universities and public health labs among other sources, and from a lot of geographic areas," Broomall says. "Lab work done by microbiologists is also important, but sequencing data can be developed in a couple of days. That's a much faster result than if we relied solely on lab work."
The lab where Broomall and Rosenzweig work is clearly high-tech, with machines carrying such labels as "Automated High Throughput Liquid Handling Robot" and "High Throughput Capillary Sequencers." When a sample is received, the scientists use one piece of equipment to amplify the DNA and another to sequence it and feed the information into the lab's computer system.
"That gives us the genome, but there are gaps" in the analysis, Rosenzweig says. "Then we use equipment for deep sequencing, which fills in the gaps." Deep sequencing is a term that refers to analyzing the range of material in a sample, not just a single cell.
Bioinformatics researchers at UD—only about 30 miles north of the Edgewood center—are collaborating on the project. A team led by Cathy H. Wu, who is Jefferson Chair of Bioinformatics and Computational Biology and a professor of both computer and information sciences and biological sciences at the University, is developing specialized software for the sequencing lab.
"This is a highly automated system, but nothing is a substitute for the human eye and for a person who has an understanding of a particular organism," Rosenzweig says. "That's where Stacey excels. Give her a problem, and she'll figure it out."
Broomall, who has been working at Aberdeen since 2000 and recently earned her master's degree in biotechnology from Johns Hopkins, says she's always been interested in science and math and fascinated by the way in which biology operates.
"I always wanted to try to understand how all these things in the environment—things you can't even see—affect us, but I never thought I'd get a job in the field," she says. "With this job, I always feel like I'm learning something new. There's always a good challenge, so there's no time to get bored."
Rosenzweig, who like Broomall is a civilian, was in the Honors Program at UD, where she conducted undergraduate research that spurred her desire for further education. With an interest in immunology and in cancer research, she earned a doctoral degree at the Medical University of South Carolina and then did postdoctoral work at Johns Hopkins, where she also became a junior faculty member and research assistant before moving to Aberdeen. Like Broomall, she likes to solve puzzles.
"My job here lets me help build a program, and that's what I like best—making the pieces fit together into something bigger," she says.
The Edgewood Chemical Biological Center encompasses more than 50 laboratories that conduct basic and applied research to support military troops and homeland security. The genetic sequencing project employs 19 staff members, including five who work full time in the lab.
The U.S. Army at Aberdeen Proving Ground and UD have joined forces for a variety of research and development opportunities, as well as graduate education, professional development, and employment or internship opportunities for the University community. The two institutions formalized their partnerships in a Cooperative Research and Development Agreement signed in January 2010.
Article by Ann Manser, AS '73